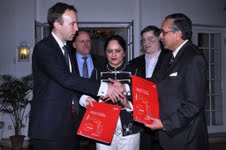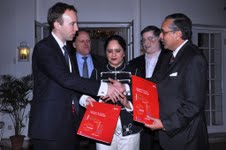 The Association of Colleges in India team will act as a hub for sharing best practice and forging  ties between UK and Indian training providers and employers
New Delhi: UK's Association of Colleges (AoC) has established a dedicated team in Delhi to help deliver the quality vocational training alongside further education training providers in India in an effort to meet the country's growing demand for skills.
It represents the largest collective attempt by UK colleges to contribute to India's ambitious skills strategy.
This initiative is a partnership of 30 UK colleges and AoC in India hopes it will help, both UK educational establishments and businesses, explore opportunities, set up and expand their operations in India.
Minister for Skills, Matthew Hancock MP, officially launched the project on 22 January 22 at the British High Commissioner's Residence in front of a delegation of Indian and UK skills providers, industrial partners, government ministers and civil servants.
AoC is the membership body for 341 further education colleges in England and has been representing, promoting and supporting colleges since 1996.
This new venture in India is a bold move into the international scene and illustrates the importance of the Indian market to British educational institutions.
Asha Khemka OBE, Chair, Association of Colleges (AoC) India said that she was excited about the launch. "With the emergence of India as a knowledge-based economy its human capital has become India's biggest strength. Quite rightly the spotlight is now on India to develop its skill base and infrastructure to continue its economic growth. I am really excited following our visit this week and are looking forward to forging new partnerships and building on our mutual strength. I am immensely encouraged to see the energy and drive in India."
Vocational Skill Development stakeholders and local trade associations in India such as FICCI and CII support and welcome the launch of Association of Colleges (UK) in India
"The National Skill Development Corporation (NSDC) would like to congratulate the 30 FE colleges affiliated to the Association of Colleges, UK, which have decided to come together and form AoC India with the objective of collaborating with local skills training providers and Sector Skill Councils for imparting best-in-class outcome-oriented skills-related education in this country," National Skill Development Corporation (NSDC)CEO and MD Dilip Chenoy said  at the launch function..
We are confident that AoC India would contribute in a big way to strengthening the strong linkages that already exist between the UK and India in the vocational education and training space and help India attain a position to be able to leverage its favourable demographics for achieving a faster and more inclusive growth.We would be happy to work closely with AOC India to transform the domestic skills landscape,he added.
Confederation of Indian Industry (CII) Deputy Director General Supriya Banerji  said, "The launch of AoC India is at a most opportune time in India, when skill development is being discussed alongside economic prosperity. CII welcomes AoC India and looks forward to a fruitful and meaningful partnership."
On the occasion of the launch, Centum Learning CEO and Director Sanjeev Duggal  said, "Association of Colleges (AoC) entering India is a step in the right direction. Their presence in the Indian market will open a plethora of opportunities for college students in India who would experience the benefits of UK's Further Education (FE) Colleges."
Skills Academy CEO Anju Talwar welcomed the launch of Association of Colleges in India. "The Indian Skills industry will benefit hugely from the quality and experience of UK's FE colleges via their professional support and solutions in various fields." Talwar said at the launch.
John Yates, CEO, Manipal City & Guilds welcomed the commitment and setup of Association of Colleges (AoC) in India.
"As CEO of Manipal City & Guilds and a resident of India, I'm delighted that the Association of Colleges is demonstrating its commitment to India by establishing an office here", Yates said while speaking at the launch event.
The Association of Colleges (AoC) now have a permanent team in Delhi; offering UK training opportunities to Indian partners. The team operates through the 'LaunchPadTM' scheme managed by Sannam S4 Consulting Pvt Ltd – a leading marketing entry and business development consultancy.
Sannam S4's Chief Executive,  Adrian Mutton, said "Sannam S4 is delighted to be the local host partner of the Association of Colleges in India. As I am from a family who have all progressed through the UK FE system, I have a huge respect for the value the sector brings. I am excited about the huge positive contribution we will be able to make to addressing India's skills needs, with both India and the UK receiving mutual benefit."
AoC's International Director, John Mountford, said: "This marks a great opportunity, not only for our member colleges in the UK, but also for a huge variety of education and training providers in India. AoC in India will be a way of sharing educational best practice that has been developed in colleges in the UK over many decades.
"Exciting news! Elets Education is now on WhatsApp Channels Subscribe today by clicking the link and stay updated with the latest insights!"
Click here!