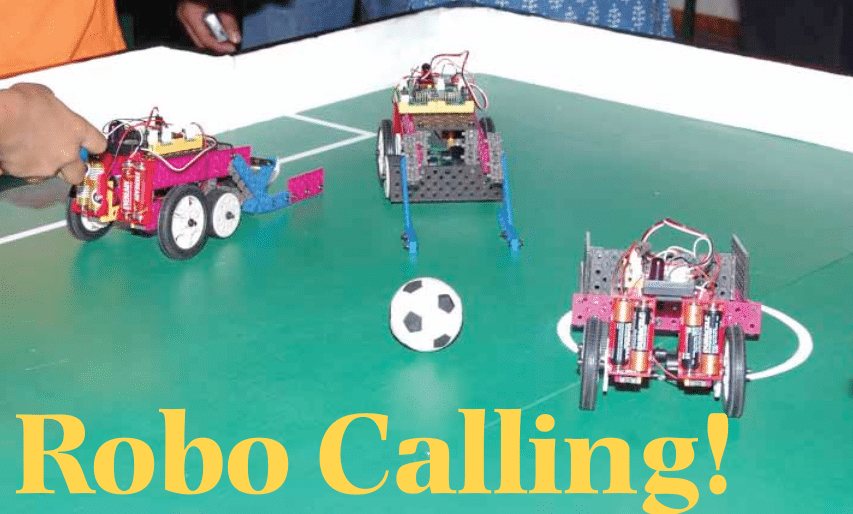 Robotics and robots fascinates and engage attention of people of all ages. In the education space, they are catching attention of students while also imparting creativity, experiential and hands-on learning. The Robotics lab market in the Indian education sector is close to Rs 1,000 crore, and the space for Robotics lab is an unexplored market so the potential can actually be much more. It is a predominant experiential learning tool in UK & US. Now, Robotics is also catching interest among school and higher education institutions across india and is becoming an unmatched tool for imparting STEM education. Robotics has, in fact, emerged as the fourth 'R' in education after reading, writing and arithmetic.
These labs not only make STEM learning fun, but also give better knowledge of learning thinking, leadership and life skills and teamwork. The demand of the 21st century learners is not based on rote learning. Instead, the future workplace will require students who can adapt to the situation and excel with problem-solving skill.
digitalLEARNING invited views of various Robotics solution providers and educators on how Robotics labs are changing the dynamics of STEM education…
"Robotics strengthens students' understanding"
Ranjani, Program Manager, UniMity Solutions Pvt Ltd, shares the need for Robotics in education
Students desire to gain an understanding of emerging science and technology areas while at school. Schools are vested with the responsibility of tracking, identifying and providing an exposure to these emerging subjects on a continuous basis, like we have experienced during the growth in Computer Science field over the last 10-15 years.
Now, the most premier schools have excellent infrastructure to teach computer-related subjects. The scenario in Robotics is similar. International trends are already pointing towards the growing popularity of Robotics as an industry, and of Robotics training at the school level.
Further, exposure to Robotics strengthens students' understanding of core subjects – Mathematics and Science. Schools and teachers would, therefore, need to ensure that Robotics training is provided to their students, to ensure that they get prepared for the new opportunities in the 21st century. Local, regional and international competitions attract participation from school students from across the world to build robots in different categories.
In India, at the leading engineering colleges, Robotics is becoming a part of the core activity. At the school level, exposure to Robotics is in its nascent stages. However, awareness is increasing and interest for Robotics among the student community is palpable. In the last four years, we have ob- served Robotics receiving a lot of interest in the upcountry schools.
"Instilling Scientific Temper in Students"
Gagan Goyal, CEO, ThinkLABS on the acceptance of robotics as a new wave of teaching STEM in India
Transforming teaching-learning
Robotics lab completely transforms the way science and computer programming are taught in schools. It focuses on creation and application rather than just exploration. Our approach truly utilises the power of hands-on learning and creates a multi dimensional study platform, which involves simultaneous appreciation of science, technology, engineering, mathematics (STEM) and computer programming. The pedagogy gives visual grasp of Math and Science concepts, teaches through discovery, builds logical and analytical thinking, nurtures creativity and innovation and, enhances problem solving attitude.
Keep the learners engaged
Through a series of hands-on activities, competitions, and engaging discussions, the students exercise their problem- solving skills and creativity in a fun and exciting environment. In a nutshell, Robotics is an application of the principles of science and programming. Since school children study the basics of physics and mathematics from theoretical point of view, it becomes very critical for them to appreciate the practical aspects of this education. Robotics is a medium that fascinates a child and encourages him to ap- ply the knowledge into real time applications. In addition, robotics allows young students to develop invaluable skills such as problem-solving, logical reasoning, critical thinking through creativity. These skills greatly progress their competitive edge and aid them to excel in the future. With so many aspects of learning being addressed solely through a very engaging and futuristic medium of Robotics, it is finding recognition as a one-stop solution amongst all progressive educators.
Why a must have?
Students develop science projects and make robots for real life applications. For example, a blind-man's stick that senses obstacles and guides. Unlimited number of projects can be created by the active use of same kit components.
Tips for teachers
It provides scope for teachers to teach with their own style. Robotics content should not be looked at as a fixed curriculum, but as an expert recommendation. Teachers should feel free to customise the content as per their school ecology and students skills. The value of Robotics will be much more if the teachers conduct the sessions with the right attitude in their own style.
"The existing computer labs can be used as a Robotics lab"
Sajeev karuthody, Director-India & USA, Edutech, on the magic that Robotics labs can do in education
Revolutionising STEM Education
Robots teach basic life skills such as problem solving, decision making, goal setting and logical thinking. It represents a practical application of Physics, Computer Science, Engineering, and Mathematics, and may be used to speculate about concepts of humanities. Robots have an intellectual and emotional appeal that transcends any other type of engineered product.
Robotics offered by Edutech helps teachers the opportunity to bring together many different areas of study especially STEAM (Science, Technology, Engineering, Art and Math).
Robotics is a transformative technology that is changing the way we live and work. Global industries are integrating technologies to their products and services making it more efficient and smarter. Robotics in India offers more than USD 100 billion that today's students must capitalise on. Robotics are widely used inManufacturing, construction, security and defense, Medical and healthcare, Domestic, Education and Assistive services and products. Only two percent of the processors manufactures goes to personal computing remaining ones went in to various embedded systems.
The market is picking up with more and more schools understanding that only focus on academic results do not guarantee learner success in life. Educators today realise that intangible skills like creativity, problem solving skills, team work and project management skills are going to be as important as academic success in ensuring students are successful in life.
Adoption in India
Most international schools have a robotics lab as either an after school activity or an in-curriculum programme. It is gaining traction in the mainstream CBSE schools. In higher education, the study of robotics provides learners exposure to electronics, mechanics, programming and embedded systems. Edutech has seen its robotics market grow by 50 per- cent the past year. A wide range of re- search projects in autonomous vehicles, space research and unmanned vehicles are done in our engineering institutions. We foresee demand for quality robotics.
Tips for teachers
The existing computer labs can be used as a Robotics lab, which makes starting up a lab very cost effective. Edutech offers courses that use brick programming that can help start a robotics program without computers. Having sufficient floor space for conducting activities/building challenges would be advisable. By using some of the Robotics challenge mats we have designed, we can conduct Robotics classes even in very small spaces. We recommend student to Robotics kit ratio of 3:1.