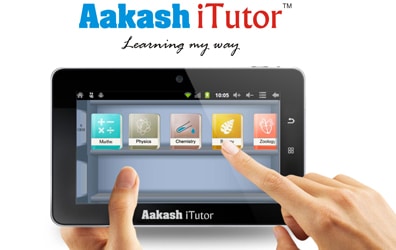 Aakash Educational Services Ltd has unleashed innovative ways of using technology to assist students in learning. It has now conceptualised the Aakash iTutor lab in select cities in India.
These labs, named as Virtual Classroom Centre (VCC), will help disseminate the iTutor program, which is a tablet based educational product combining the best of classroom learning and self study. Students will now be able to access these tablets through the iTutor labs for just Rs 25 per hour.
This would especially benefit those students who cannot afford the cost of the tablets. iTutor lab enables the student to use the course material in the tablets, sitting in the lab. These labs are present in cities like Kota, Kanpur, Aurangabad, Bikaner, etc.
Talking about the objective behind such an innovation, Aakash Chaudhary, Director, Aakash Educational Services Ltd said, "Aakash iTutor Labs or VCC have been rightly introduced keeping in mind the overwhelming response for the iTutor Tablets and to further the availability and affordability of the iTutor program.
A lot of students couldn't reap the benefit of the technology as it was not within their means. This is an effort to reach maximum students as we believe that every student must have equal access to quality education. VCC will revolutionise the way education is delivered in this segment."