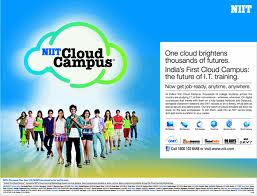 NIIT Limited has announced an initiative 'Cloud Campus', for redefining the education landscape by making available new-age skills, to students across the breadth of the country.
NIIT aims to offer over 100 courses across 300 locations by the end of 2013, thus enabling a coverage of over 500,000 students by 2014. NIIT will offer training programmes in IT, Banking, Global Finance, Management, Digital & Social Media Marketing, through Cloud Campus with innovative learning features. NIIT Cloud Campus will empower the youth of the country by providing new-age training programmes through the cutting-edge Cloud technology, to make them first day-first hour industry ready professionals.

NIIT Cloud Campus harnesses the power of Cloud technology to provide unique features – such as Cloud Classroom, Cloud Courseware, Anywhere Lab, Lesson on Demand, Online Assessments, and Buddynet Learning
Speaking on this significant announcement Rajendra S Pawar, Chairman, NIIT Ltd. said, "NIIT will usher the next revolution in education through Cloud Campus."
This pioneering initiative from NIIT will help take high quality educational programs to the remotest corners of the country, thus addressing the dilemma of scalability and quality in education that our country is currently facing. NIIT Cloud CampusTM is based on a revolutionary educational paradigm which takes students beyond the traditional classroom teaching. It seamlessly blends classrooms, Cloud enabled classrooms and collaborated learning into India's first Cloud Campus. Further, NIIT has set up www.niitcloudcampus.com as a student gateway to help them identify trends in new age skills and offer more information on NIIT Cloud Campus.
Vijay Thadani, Chief Executive Officer, NIIT Ltd. said, "Cloud is undoubtedly the future of learning. NIIT will empower the youth of the country by providing new age skills in domains across IT and emerging technologies, Banking, Global Finance, Management, Digital and Social Media Marketing."
Long Term Career Programs for college students seeking new-age careers, Accelerated Programs in IT & Banking & Global finance domains for graduates, New Technology & Advanced skills courses for working professionals in IT, Marketing and General Management will be offered through Cloud Campus.
This breakthrough initiative from NIIT is likely to have huge impact on the education industry that is currently plagued by the dual challenges of quality and scalability. With smart phones and tablets becoming more affordable, most Indian youth are accessing internet through their handset. According to a mobile survey conducted by IPSOS & Google, Indian smartphone users are accessing the Internet more than their counterparts in the US. The survey reveals that 36 per cent of all smartphone owners in India are in the age group of 18- 29.