Today, most of our time is spent in trainings whose effectiveness is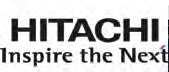 measured by what is comprehended, which eventually leads to better understanding, teamwork and better outcomes. Hitachi education solutions help in conducting successful training that grabs the attention of the participants and get their involvement too. Hitachi's education solutions for a modern classroom includes a wide range of projectors and Interactive White Boards. Hitachi has been a part of the modern digital classroom in India for the past 20 years. Hitachi projectors and Interactive White Boards are well known for their reliability and durability.
Hitachi Installation projectors


Hitachi also offer state of the art Interactive White Boards called StarBoards. They come with touch technology which means you can operate by using your finger or stylus. The StarBoard Software that is very versatile with customisable tool bar, smart pens, click and search and import files. They come in two sizes 200cm (79") and 226 cm (89)
Hitachi offers a wide range of models for advanced installation and system features for various uses. These projectors come with the motorised lens shift that enables lens shift, zoom and focus to be perfect for any convenient installation location, even for large spaces. Moreover, interchangeable lenses are available to match various screen sizes and installation environments. Projection is possible in diverse installation areas from small conference rooms to auditoriums, convention halls and other large spaces. These projectors come with advanced features like DICOM mode (which helps in a better view of Grey Scale images like X-Rays), Accentualiser image processing with controls that enhance sharpness, improve contrast and make fine details clearer. age from only 53.1 cm (20.9 inches).
This Hitachi DLP Projectors
Hitachi has launched 9000 series DLP projector for high brightness and image quality that deliver bright vivid colors. It has features like HDCR (High Dynamic Contrast Range), Motion Adaptive Deinterlacer provides focused images, even for fast-moving video. Edge Blending is another important user friendly feature that achieves the seamless projection of one image using multiple projectors. Geometric correction is possible with this new line of projectors. Projection is possible on spherical surfaces and surfaces with corners, as well as conventional flat screens. These will be launched in the range of 8500 to 10,000 lumens with resolution of XGA/WXGA and WUXGA.
Hitachi Ultimate Short Throw Projectors
Hitachi Range of Ultimate Short Throw Projectors is well known in the market and preferred by the customers. These projectors feature Ultimate Short Throw, for projecting a 2m (80 inches) wide im age from only 53.1 cm (20.9 inches). This greatly reduces glare from projector light making it easier for the presenter to see the audience. The audience also has a clearer view because the presenter's hands and body shadows are minimised. The result is a better classroom experience for both teachers or presenters and audience. These Ultimate short throw projectors comes with precision control wall mount unit which has six-axis wall mount design to ensure that projector can be installed in exactly the right position. They come with a range of brightness from 2200 ANSI Lumens to 3500 Lumens and resolution of XGA and WXGA. Hitachi has launched the range of Super Short Throw models. These projectors achieve a projection of 2m (80 inches) from a throw distance of only 71.1cm (28 inches). The Supershort throw projector comes in resolutions XGA & WXGA and in two brightness segment of 2500 & 3000 ANSI Lumens.
Hitachi Interactive solutions
Projectors that previously only projected images now have the interactive functions that surpass conventional uses. Now you can make any surface interactive including the wall. Interactivity provides several benefits like real time operation and revision, improved audience concentration, audience participation and prompt data saving and printing function of the displayed content. These advanced projectors also feature Ultimate Short Throw and network function. These projectors come in WXGA resolution and with brightness of 2,500 and 3,000 lumens.
"Exciting news! Elets Education is now on WhatsApp Channels Subscribe today by clicking the link and stay updated with the latest insights!"
Click here!