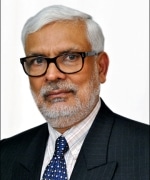 Prof Ramadhar Singh, a distinguished professor at the Indian Institute of Management, Bangalore (IIM B), is the only Indian to be on the list of the United States-based Association for Psychological Science (APS) and The Faces and Minds of Psychological Science, a list of leading researchers in psychology.
Prof Singh wrote on 'Inferring Missing Information' in the 'I'm a Psychological Scientist' series contest. Through his study, Prof Singh has demonstrated how people take decisions by inferring the missing information. As per APS, Prof Singh's work will help social and cultural-psychologists understand and investigate how people judge morality and achievements of others even without the needed information.
Prof Singh is proud that psychological research from India has been recognised. After his PhD from Purdue University in 1973, Prof Singh returned to India. He worked on 'Inferring missing information' from 1975 to 1991when it was first published as a chapter. Talking about the state of psychology education in the country, Prof Singh lamented by saying it needs a revamp. Also PhD Selection Committees need improvement in the quality of selection of PhD scholars. Prof Singh has taught at Indian Institute of Technology, Kanpur, IIM Ahmedabad and National University of Singapore before becoming a professor at IIM B.

br>