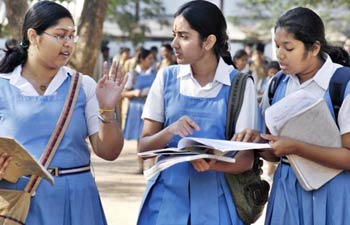 In what may be termed as a big departure from run-of-the-mill courses, the Central Board of Secondary Education (CBSE) is all set to offer theatre, legal studies or gender studies as an elective in classes XI and XII, from the academic session 2014-15. The board is offering the subjects after a pilot run in select schools last year.
The board will also offer Chinese language for the middle school, pilot run of which is underway in 25 schools. Among other subjects available to senior secondary students are NCC, human rights and a unique "Knowledge Traditions and Practices of India" which combines various disciplines of study.
The first batch will take their board exams in these subjects in March 2015.
CBSE chairman Vineet Joshi said theatre studies is now going to be offered in all schools after their pilot run on first-come-first-served basis in 2013-14. Theatre can also play an important role in reinforcing and furthering the learning of other academic subjects which are taught in conventional ways.

Joshi added the board wants to give a competitive edge to students who wish to prepare for a career in law. Prior to opting for law in higher studies, students will get an idea about the subject and their own aptitude. Based on the response during our pilot run, we are extending the option to all schools who would like to offer the subject.
The course will include theory and nature of political institutions, nature and sources of law, historical evolution of Indian legal system, civil and criminal courts and processes, family justice system, arbitration, tribunal adjudication and alternate dispute resolution, human rights in India, the international context and an overview of the legal profession in India.

br>