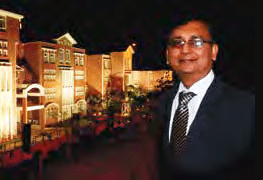 I believe in an open door policy and hence I brought more transparency and approachability for students, They could come and share with me all that they want
Pedagogy – We changed our report card system and made it more comprehensive and customized to the students. We followed the Howard Gardner's Multi Sensory approach at primary level and made our teaching learning process activity based. We made an online question paper making web based software for our teachers and now we are developing comprehensive lesson plans that are IT enabled.
Technology – Technology has taken the standard and quality of teaching to the next level, it has brought more ownership and transparency in our working styles, it has given time to teachers for more planning and above all it has made teachers to reach out to the students when they actually need them. We have brought transparency between the parent and the school regarding teaching learning process and the syllabus coverage.