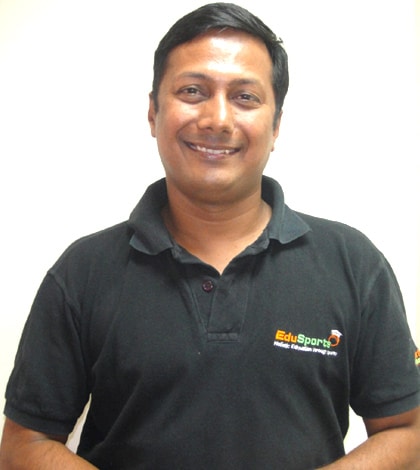 Saumil Majmudar, Co-founder and CEO, EduSports has been extensively working on improving the Physical Education and Sports scenario in the present education system in the country. He believes that sports education is an integral part of every child's holistic development and upbringing. He shares his vision for EduSports and Sports education in India

What is the genesis of EduSports and how has been the journey so far?
EduSports was founded in 2009. It all started from a very casual remark from my friend whose 6 year old son was not engaging enough in physical activity and was getting hooked on to TV and computer. He also observed that there were hardly any healthy social avenues for his son to mingle with children outside the school. Clearly, parents wanted children to play and stay fit but there were not enough opportunities for children to have a fun experience around sports. EduSports came with the initiative to impart physical education among children and make every child healthy and fit.
Schools have Physical Education and Sports as part of their prescribed curriculum by the Education Board but in most cases, they are not delivering on the promise of Physical Education (PE). The PE activities in most schools are not inclusive and age-appropriate. This makes the children lose interest. EduSports fills this gap by providing a structured Physical Education and Sports program that
• Fits into the school's context with limited time and space for a large number of kids
• Become a part of the school time-table and covers all the children
• Helps develop healthy and fit children who grow up to be champions in life
• Ensures all the children have fun and enjoy the sports or PE experience
• Engages with all the stakeholders like children, parents, teachers, school leaders as part of the process
EduSports seeks to address the issues in the current physical education structure in India, which is a huge cause for the alarming fitness standards amongst children.

What are the opportunities of Physical Education in India?
There is an increasing focus on sports and fitness in India. Overall, Physical Education is not the same like the Physical Education class which India grew up on a decade ago. There is a realisation that Physical Education and Sports are not just "pass-time" activities and outside the core curriculum but a major part of it. We designed the program for the Indian context. A majority of schools across India have limited spaces for sports or physical activity and the teacher to student ratios is quite low. Speaking to school leaders and collecting their feedback on the program has been one of the greatest sources of inputs for improving the program. Today we can proudly say that it has managed to alter the thought process on the need for structured play from an early age. This has been done through numerous in-house studies and publications carried oyt by our team. These attempts were obviously aided by the works we have been doing on the ground with many schools to help reinforce the findings of the work done. Campaigns have included enlightening school leaders on the need for structured play, training and courses specially fabricated for existing PE teachers to improve their skills on ground, reporting, and soft skills. This has helped drastically change the landscape of physical education in the country.
Although we have played the role of strong advocators for physical education as part of the curriculum, we can see the increasing interest and realisation amongst schools for taking sports and fitness seriously. The opportunities are manifold which have actually inspired us to keep evolving and meeting the needs and requirements of our customers.
What are the different programs offered by EduSports and how do they help students?
Our focus is primarily N-12 schools and pre-schools. Some of our modules are built specifically for teachers and parents while others like infrastructure consulting are directed towards school leaders.
The EduSports SOARTM Program includes: Curriculum for grades N-10, age appropriate props and equipment, fitness diagnostics for all children, teachers and parents workshops. On-campus we have trained resource, Active Club after-school programs, and a comprehensive K-10 schools PE program performance management.
The end user who gets the benefit of the program is of course the child in an EduSports school. The school leaders and teachers also benefit due to the wellness program which we generally do over weekends. Parents would be the other beneficiaries of the program.
What are the new programmes being introduced in future?
The EduSports Physical Education program is the only source of revenue for the company. EduSports expects the market to at least double every year and about 1 million children to play with the EduSports program by 2015-2016. In addition to EduSports, the structured school sports and PE industry will see more players helping children discover the magic of sports and physical activity. Considering that there are potentially 75,000 plus early adopters, EduSports expects the robust growth to continue. Any policy changes like curriculum changes brought in by the CBSE and government's interventions will only add to the growth.
Has the changes brought about by the CBSE in the curriculum helpful for sports education providers like you?
The CBSE through its CCE guidelines has included Physical Education as one of the parameters for assessment of a child. This has generally been helpful in driving the importance of PE in schools. Today, all CBSE schools need to publish their CCE compliant reports. EduSports has also ensured that its report cards are CCE compliant for the schools
This has helped sports education provides like EduSports, since the basic building blocks of the guidelines like use of props, low idle times, detailed assessments, metrics, rubrics etc. are similar to our program. We would in fact wish that CBSE and other education boards take into account the following:
• Good sports infrastructure in schools– with at least a good playing ground, preferably a grass field.
• Give equal importance to sports and academics– PE should be treated with equal importance as any other academic subject, and should not be looked at as an extra-curricular activity. The same philosophy needs to be embraced by parents as well, and equal importance to the subject and the teacher should be given in forums like PTA.
• Equip necessary support and tools to run a good program in schools- This can include adequate rewards and recognition for students, a curriculum like any other academic subject, planned assessments and updates to parents like any other academic subject and the necessary support from the school in events like sports days or school sports events to make them successful.
What are your core competencies?
A very strong culture of staying close to the ground level and seeing how things work at schools helped the EduSports team to identify some of the biggest unmet needs which were present but not voiced by the stakeholders. Our team decided to focus on the junior school level from nursery to grade 4. This was a segment that was typically neglected in most schools as the school's PE focused on the middle school and high school from 5th and above and prepared them for inter-school tournaments.
With this, a call of positioning the company as a provider of holistic education via sports, covering all the children in an age-appropriate fashion against a company helping to groom champions in sports made EduSports think of themselves as an education company against a sports company. Leveraging the team's experience and commitment to ensure that children have a great experience on the ground through the EduSports program, various tools like daily log sheets, weekly training and reflection meetings with teachers, program updates to the central teams via SMS, assessment reports etc. were designed and implemented. Schools loved this initiative and school leaders referred us to their peer groups. Today EduSports cover more than 2,00,000 children and works with more than 300 schools in 80 plus cities across India. We also have an international division with some schools in the Middle East and a few in Nepal.