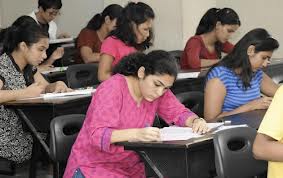 The worried management of Gujarat Technological University about the previous incidents of paper leak, has introduced strict guidelines for the manner of examination which will begin from May 19, 2014.
Apart from this, they have decided to ban the examination centres which will not have CC TV cameras installed in it. The downloading and printing of the question papers has to be done in the presence of senior staff members of the college concerned. The password for opening the question paper will be sent on the coordinator's mobile phone which has to be opened and printed in the presence of several senior staff members. According to GTU officials, the entire process has to be videographed.

Strict rules are introduced like, apart from the coordinator no other staff members will be allowed to carry their mobile phone, not even the supervisor and invigilator.
It has been made compulsory, that any student who goes out of the examination hall will have to mention his seat number, the time of leaving and the time he returns in the logbook. The university does not want to leave any chance for the leak of question papers and its circulation in the social media.