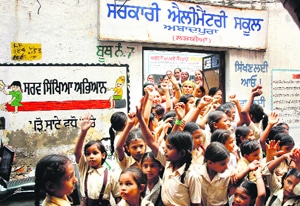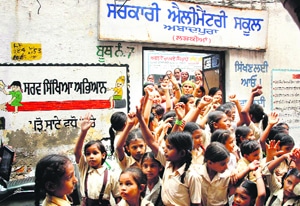 The direction issued by the office of the Director General School Education (DGSE) to shut down the Government Elementary School in Radio Colony, Jalandhar, has invited the ire of students and parents alike.
The decision over closing down the school was taken after going through a particular day's report when there were only 13 students present. As per school authorities, the report was taken at the time of thin attendance. Moreover, the officials claimed that more than 46 students were present on July 1, 2014, the first day of the school after the summer vacation. School teachers revealed that over 70 students are enrolled in the school.
Student's and parents protested against the move, which forced authorities to re-open the school. It was reported that children studying in the school belong to dalit and poor families. On enquiry, it was revealed that several residents of the posh locality have been expressing concern over poor children, who have been visiting the school to study.

Hardwari Lal, Chairman, Purvanchal Jan Kalyan Maha Sabha, states that the order for closing down the school could have been managed by some residents through political manipulation. Residential families are not welcome to the idea of these children coming to their locality. Lal added that upon visiting Anil Awasthi, District Elementary Officer, there was no clear answer as to who asked for the closing down of the school.

br>