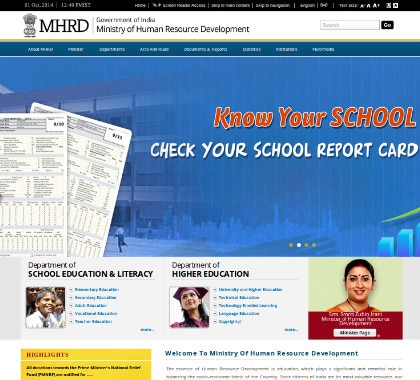 The Human Resource Development ministry has unveiled a new website that promises to be improved and more interactive. The website was inaugurated by the HRD minister Smriti Irani in New Delhi on Tuesday, September 30.
The website has Swachchh Bharat Shwachchh Vidyalaya as its opening theme with Prime Minister Narendra Modi's message to pledge for a clean India on the 150th birth anniversary of Mahatma Gandhi. The ministry claims the website will be a tool for empowerment towards ensuring better and speedy delivery of educational facilities to the students.
The newly-developed website also provides links to important government websites and various social media platforms like Facebook, YouTube and Twitter on which the HRD ministry is active. It also provides details regarding important schemes being undertaken by the like the Sarva Shiksha Abhiyaan, Mid Day Meal Scheme and Rashtriya Madhyamik Siksha Abhiyan.
In the coming days, the website is also expected to provide real time details of school infrastructure, staff strength, courses and even details of toilet facilities. Sources stated that the website would have all requisite information regarding facilities at educational institutions located across the country. The interactive website also has a students and a teachers corner through which these two fraternities can interact with the government.
A separate link has also been provided for grievance redressal. The website is expected help ensure in prompt and smooth grievance redressal mechanism in the education sector. It was also felt that this mechanism would ensure a more active and vital participatory role that would be played by the parents of students.
To make this project a success, the HRD Ministry has sought data from all state governments, which would be processed and put on the interactive website. The data collected through the website is expected to also help the Central government in ensuring proper utilisation of funds and better policy preparedness.