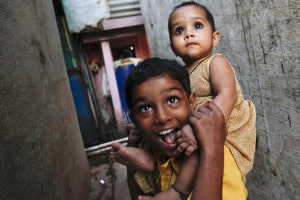 In India, around 282 million people are illiterate. The country is still lagging behind to fill this gap. But despite a growing annual budget in education, it just does not do enough.
The Ministry of Human Resource Development (MHRD), which handles school/higher education and adult literacy, grows richer every year, however it still accounts for only 5% of the government's expenditure of over Rs 17 lakh crore ($289 billion).
The Ministry of Finance topped the list (with 35%), followed by the Ministry of Defence (16%), Ministry of Food (6%) and Ministry of Rural Development (4.7%). In the last financial year, the MHRD was ranked 5th, with only 4.6% of the total central government budget set aside for education.
The Bharatiya Janata Party (BJP) had promised to increase the spending on education to 6% of GDP in its election manifesto. The first budget by the Narendra Modi-led government did not see much change in the allocation to MHRD.

MHRD has two departments – the department of school education and literacy and the department of higher education. The department of school education is also responsible for adult literacy programmes. All universities and technical/professional schools come under the department of higher education.

br>