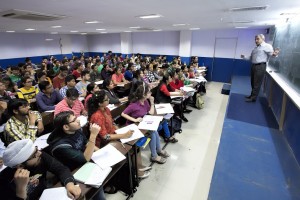 SKOL System has developed a 360 degree support system 'FreCher' for the coaching institutes that ensure freedom from developing study material, preparing tests on different parameters, evaluation & ranking and developing supplementary audio-video content for more interactive learning.
FreCher helps coaching institutes in building a trade network, enhance knowledge and skills of the teaching staff through regular training programs by specialized resource personnel. In addition, the customised study material helps institutes to do their own branding.

It is not only beneficial for teachers, but it also makes learning easier for students. It overcomes all kinds of examination blues, hectic preparation menaces and stress through a customized study package researched and developed by academicians of immense experience. Study material, notes, mock tests and all relevant information required by a student to take the exams with confidence and enthusiasm.
"Following the program which meets the requirement of a particular subject, a teacher can make interactive and impressive lecture, ignite the potential of the students and can make learning more interesting, easier and focused." said Damanjeet Kour.