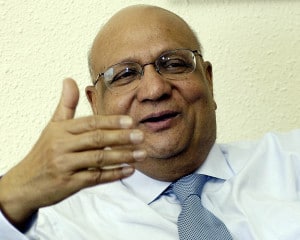 With the aim of strengthening education ties between India and the UK, NRI industrialist Lord Swaraj Paul will be visiting India this week. The chairman of the Caparo Group will be leading a delegation from University of Wolver hampton, in his capacity as Chancellor, and also hold a series of meetings with senior ministers, including Human Resource Development Minister Smriti Irani and officials to launch a new worldwide drive on the right to education for all.
"I am really looking forward to my visit this time as I feel inspired by the determination shown by Prime Minister Modi to put education at the forefront of his development agenda," Paul said.
The University of Wolver hampton delegation includes Vice-Chancellor Professor Geoff Layer. It will travel to Delhi and Rajasthan to meet business leaders, education providers and government officials. In addition, there will be events with India-based alumni and presentations of bursaries and scholarships to local school children.
Furthermore, the Delhi visit will conclude with a scholarship event and the signing of a letter of intent forging a new partnership with the International School of Tourism and Hotel Management (IST) Nepal.

"The University of Wolver hampton has a long established special relationship with India which has been built over many years. The University is proud to have a global outlook and warmly welcomes many students from the sub-continent each year," Paul said.
"This visit will allow us to nurture our links with education and business in India and forge new partnerships, as well as supporting school children through scholarships and bursaries," he explained.
"As India enters an exciting new phase in its development, we hope to contribute to economic growth and the training and skills agenda," Prof Layer added.

br>