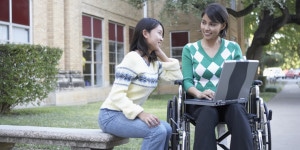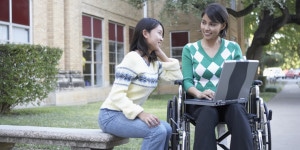 There are only 8,449 disabled students, or 0.56 percent, studying in the country's 150 top universities and colleges that have a total strength of 15,21,438, said a recent survey conducted by National Centre for Promotion of Employment for Disabled People (NCPEDP). The national survey 'Status of Disability in Higher Education' was released as part of the 3rd National Convention for Youth with Disabilities.
The nationwide survey of status of disabled students in top Indian colleges, institutes and universities, revealed that of these differently-abled students, 74.08 percent were male and 22.07 percent were female students. Of the over 200 institutions that were written to,150 responded — which included all the 16 Indian Institutes of Technology (IITs) and 13 Indian Institutes of Management (IIMs).The colleges were identified on the basis of streams and courses on which the survey was to be conducted.

It may be mentioned that last year, the total number of students with disabilities was 0.63 percent.
Javed Abidi, Director, NCPEDP, said, "It is a big reason to worry that years after the law, only 0.56 percent students are disabled". He also pointed out a significant number of institutes that did not respond was that of private institutions, which he said were the 'biggest culprits'. He said that the first step which needs to be taken is that of 'accessibility. "It is about removing both — architectural and technological barriers.Only 0.56 percent disable students in top colleges