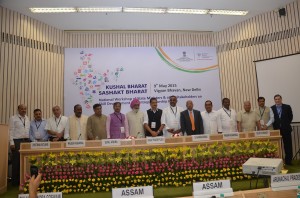 The Union Minister of State for Skill Development and Entrepreneurship (Independent Charge) and Parliamentary Affairs, Rajiv Pratap Rudy chaired a workshop to discuss the policy framework and roadmap for Skill Development in the country.
450 participants from central and state government including the ministers and principal secretaries, industry, sector skill councils, training providers, and other stakeholders in skill ecosystem attended the workshop.
State Ministers from Andhra Pradesh, West Bengal, Bihar, Uttar Pradesh, Telangana, Gujarat, Rajasthan, HP, Punjab, Orissa, Goa and Maharashtra made presentations on key initiatives in the state and also gave inputs on enhancing the centre-state partnership for skill development across the country.
Rudy highlighted on the fact that the combined vision of Ministry of Skill Development and Entrepreneurship and the States is aimed at achieving the overarching objective of "Kushal Bharat, Sashakt Bharat". He further emphasised on the need of creating a common mission like "Sarva Kaushal Abhiyaan" on the lines of "Sarva Shiksha Abhiyaan".

He said, said "There is an urgent need to standardise education; and the States have to become partners in Skill Development to ensure this. All the States have to educate themselves on National Occupational Standards and Qualification Packs so that we can collectively skill large number of people with speed and standards."
"The industry needs to decide the type of trained workforce they require in the country today. The government will facilitate efforts in this direction. Ministry of Skill Development and Entrepreneurship will handhold states in creating models of excellence at every step. Sometimes what fourteen years of education cannot provide, 14 days of vocational education can", he further added.
Sunil Arora, Secretary, MSDE said, "We will drive the quantity and quality of skills training across existing educational institutions, our ITIs and through a new set of dedicated institutions representing best-in-class vocational education. Where we are leveraging infrastructure under the purview of other Ministries such as MHRD & MoLE, we will play a supporting role. We will help ensure they are better aligned with the standards and requirements of industry and business. We will also aim to address the issue of low appeal amongst youth for skills training through these institutions."
Bringing in the perspective of a successful public private partnership, Ramadorai, Chairman, NSDA & NSDC said, "The private sector can help improve the infrastructure of the existing vocational training institutes, bring contemporary course curricula to these centres and in train the trainers programme. It is important that each corporate or agency is aligned to a common Ministry to reap the benefits of the multiplier and learn from each other's success across different states."
The Minister also announced he formation of a Working Group comprising of principal stakeholders chaired by Secretary, Ministry of Skill Development and Entrepreneurship. The group has been constituted with the objective of establishing a transparent policy and scaling up capacity of ITIs. Members will include Principal Secretaries of 4-5 States, MD & CEO, National Skill Development Corporation and Joint Secretary, Ministry of Skill Development and Entrepreneurship.

br>