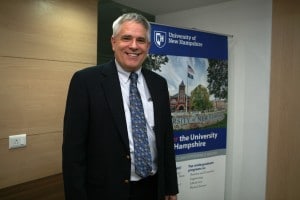 The University of New Hampshire, a public research university in the United States in partnership with Navitas, a global education provider seeks to make high quality education from a world class university available to deserving Indian students.
The University of New Hampshire with a commitment to the undergraduate mission, offers a range of majors in the engineering, sciences, business, and the liberal arts. High achieving students will be considered for scholarships for entry as well as progression through their choice of programme. Scholarships are competitive and students are encouraged to apply to make the most of the available opportunities at the earliest. The scholarships on offer are:
$10,000 academic excellent ambassador scholarship, 20% academic merit scholarship, 10% early bird scholarship (Need Based).
The students can apply for the nomination through Navitas. Last date for applying for fall winter semester 2015 is November 15. "Applicants who apply under this option will receive an admission decision from us by early April and must have taken the SAT or ACT no later than the January test date," informed Vandita Bhargava, Country Manager, Navitas India.

Regular decision will be taken on February 1, 2016 and the outcomes will include admission to UNH. For students applying to spring semester 2015 the regular decision will be taken on October 15, 2015.
The University offers 2000 courses in more than 100 majors taught by internationally recognized faculties. The University has a strong undergraduate research focus along with an honours program. It also offers a wide range of internship opportunities, study abroad options, and national exchange experiences.
Dr. Chuck Zercher (Ph.D.), Associate Dean, The University of New Hampshire said, "We are indeed pleased to have partnered with Navitas. We intend to utilize the expertise and experience of Navitas in the field of education to promote the University of New Hampshire and fully describe the UNH experience to a community of potential scholars and communicate the abundance of opportunities and programs that are available for UNH students."
"We, at Navitas India, seek the best for Indian students when it comes to studying abroad. With internationally recognized faculties, rich and cutting-edge research opportunities, and courses in the engineering, sciences, business, and the liberal arts, the University of New Hampshire will be a great choice for students to realize their potential and aspirations." said Bhargava.

br>