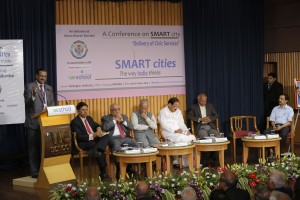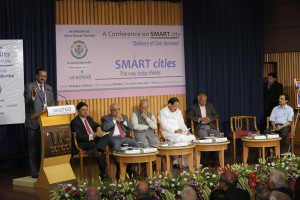 Vijnan Bharati, Mumbai in association with Welingkar Institute of Management Development & Research (WeSchool) recently organized a two-day conference on Smart Cities, focusing on defining specific actionable, achievable and measurable objectives for cities and towns to evolve to 'smart' ones with a special focus on the "Delivery of Civic Services" to its citizens.
Inaugurated by Union Minister, Urban Development, Venkaiah Naidu,the conference unfolded the plan spearheaded by PM Narendra Modi, as the centre has approved spending to the tune of One Lakh Crore on urban development under two new missions; the Smart Cities mission and the Atal Mission for the Rejuvenation And Urban Transformation (AMRUT) of 500 cities.

Uday Salunkhe, Group Director, WeSchool, outlined the role of educational institutions in the participation in the National agenda be it Smart Cities, Swachh Bharat or Make in India. "The role of education is crucial and critical in fulfilling the objectives on the National agenda. As collaborators with the creative mindset, our role is beyond degrees and getting placements for our students. We believe in nurturing students as responsible citizens, not confined by local paradigms but equipped with a global mindset and thus develop an ecosystem where learning is forever. Smart cities need smart education."
"Education will lead to Smart Citizens leading to Sustainable Smart Cities. Hence, the role of the education sector is critical in this process. Skilling and Reskilling are the Mantra for bringing transformation in Self, Organization and Society. We are a social transformational lab and are happy to join hands with you in taking the national agenda forward" he added.
The role of educational institutes in fulfilling the need of a large number of well educated and trained young men and women from diverse disciplines, fired with a zeal and determination to fulfil the Smart city agenda , was brought out by leading academicians like Prof Dr Suhas Pednekar, Principal ,Ruia College and President ,Vijnan Bharati(Mumbai) , Dr Vasudha Kamat,Vice Chancellor, SNDT, Prof Rohit Shinkre ,Principal,Rachan Sansad, Prof Rangan Bannerji,Prof KV Krishna Rao and Prof Krithi Ramakrishnan of IIT-B ,and Prof Dr Ketna Mehta, Associate dean –Research,WeSchool.