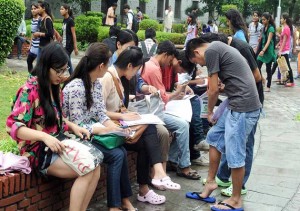 The mass failure in Sociology examination has created a spur in the Delhi University campus. Making the MHRD Minister Smriti Irani to intervene and giving assurance to students of enquiring the matter on priority basis. Delhi University has said that the answer scripts of the concerned students are being re-evaluated on a priority basis.
"The Sociology department has been directed to assist the students on a priority basis and to ensure that the concerned processes of examining have been followed before the first declaration of results and during re-evaluation."
The DU has also sent a letter to the principals of colleges to give information about the timetables for the classes of this paper along with the attendance registers of these students and the records that indicate whether classes were held regularly.

Irani has assured the students that the officials will look into the matter.It is to be noted that at least 410 students of Delhi University colleges had failed in sociology examination triggering protests by students.
The students alleged discrepancies in result, error in evaluation. 250 out of 260 students of Shivaji College failed the examination, 102 out of 129 (political Hons) students from Laxmi Bai college, 38 out of 50 at Janki Devi Memorial college and 20 out of 25 at Keshav Mahavidyalaya have also failed in the examination.
Follow and connect with us on Facebook, Twitter, LinkedIn, Elets video
>