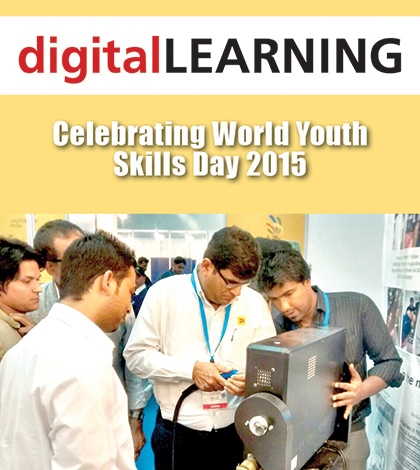 India, where half of its population is below 30 years of age, are poised with the potential to become the next generation leaders, workers, thinkers etc. To embark the beginning of new India, Prime Minister Narendra Modi who in June 2014 had pledged to make country a Skill India is now seems to take shape after one year of rigorous planning and hard work.
Recognising the country's young demographic dividend, Prime Minister has stressed on producing skilled manpower and pushing ahead the Skill India mission, the government is launching number of initiatives aimed at developing skills and promoting youth in every field. The Prime Minister will unveil new National Policy for Skill Development Mission and Entrepreneurship 2015 on 15 July to mark the occasion of World Youth Skills Day.  He will also roll out all-India flagship scheme, Pradhan Mantri Kaushal Vikas Yojana (PMKVY).
The government has set the target to skill 40.2 crore people by 2022 under the National Policy for Skill Development. The other initiatives to be launched are the model skill loan scheme, skill card for persons certified under Pradhan Mantri Kaushal Vikas Yojana.
Below are the opinions of what the stakeholders feel about the Skill India Mission and the initiatives that they are taking to skill youth of India-
Rajiv Pratap Rudy, Minister of State Ministry for Skill Development and Entrepreneurship (Independent Charge) & Parliamentary Affairs said, "Skills and knowledge are the driving forces of economic growth and social development for any country. We are in cognizance of the huge demographic dividend that our country stands to reap, at this point in time."
Captain Sandeep Malhotra, Director, Alliance Educare and Research Private Limited says, "At the outset, we all acknowledge that institutions follow very fine academic practices for imparting regular curriculum. However, the country's employment data shows that 82 per cent students face employment crisis due to the gap between their acquired knowledge and the industry needs. As we know, India is a nation with 65 per cent population below 35 years. It poses a tough challenge of skill training of 500 million people by 2022. However, if achieved, it offers a great opportunity of being a large pool of skilled workforce available to us and, to the world."
Dilip Chenoy, Managing Director and CEO of the National Skill Development Corporation (NSDC), "NSDC is partnering with the state governments to introduce training partners and set up labs and get people skill trained. Two very recent examples are in Haryana and Himachal Pradesh where school children who passed out of 12th and not wanting to continue higher education have got jobs upto Rs. 50,000 a month based on their skill certificate. In many cases where they have not even passed 12th but passed their skill certificate, they have got jobs in the market, say for example in the retail sector, where they are earning an average of `12,000- `13,000 per month."
Madan Mohan Mittal, Technical Education Minister, Government of Punjab, "Education, creation and adaptation of information, knowledge, skills and values are a key lever of sustainable development. The vision of "Skill India", "Skill youth" will give equitable opportunities to all to access effective and relevant learning throughout life delivered through multiple formal, non-formal and informal settings. Skill education is important to individuals' development as it is to the development of the nation and to the world at large.
In India Skill Development is very significant as the Hon'ble Prime Minister of India, Narendra Modi is the brand Ambassador for carrying this Skill Development in the whole country and he is taking keen interest. More so, inspite of his busy schedule, the Prime Minister has kindly consented to launch National Skill Development Mission and for promotion of Pradhan Mantri Kaushal Vikas Yojana which is being celebrated as World Youth Skills Day on July 15 at New Delhi."
"Exciting news! Elets Education is now on WhatsApp Channels Subscribe today by clicking the link and stay updated with the latest insights!"
Click here!