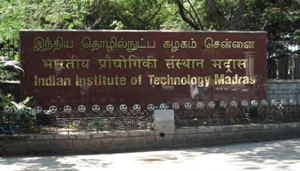 A total of 2,234 students of Indian Institute of Technology-Madras were awarded degree on its 52nd convocation ceremony held recently. This year's convocation marked the first time that Dual Degrees (M.S and PhD) were being awarded.
Prof. Manjul Bharagava, Fields Medalist 2014, R.Bradon Fradd Professor of Mathematics, Princeton University, USA, was the Chief Guest at IIT Madras. Prof. Bharagava was awarded the Degree of Doctor of Science (Honoris Causa) by the institute. Dr. Pawan Goenka, Chairman, Board of Governors, IIT Madras and Executive Director, Mahindra & Mahindra, Presided over the function.

The Chief Guest along with Prof. Bhaskar Ramamurthi, Director, IIT Madras handed over the prizes to the students.