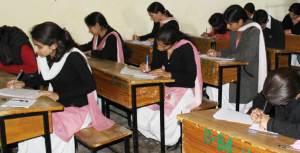 Even as the country is gearing up and basking in the digital learning phase, the Himachal Government is finding means to ensure the state reaps in qualitative education and has initiated several steps to improve the standards of education in the state-run institutions.
The state has laid special focus on early reading, writing and numeracy at the elementary level and English has been introduced as a compulsory subject from class I to improve the communication skills, informed a senior official.
Further, specific directions have been issued to all the schools and there is special focus on teacher trainings under the Sava Shiksha Abhiyan (SSA).
The pupil teacher ratio in the state is divided into 14:1 in Primary, 13:1 at Upper Primary, 27:1 at Secondary and 15:1 at Higher Secondary, making Himachal Pradesh among the top states in the country, but the learning levels are very low and there is flight of students from government to private schools.

The scrapping of class V and Class X Board examinations have also affected the learning levels as both the teachers and students have become casual. The state government has started the internal evaluation system and the teachers constantly showing poor results are on government's radar, the official said.
The state recruits only those teachers who fulfill the norms prescribed by the National Council for Teacher Education (NCTE) in Government Schools.
Teacher absenteeism is being monitored regularly and regular inspection/surprise visits of schools by Senior Officers, Deputy Directors and lower officers and Bio-metric machines have been installed in a few schools on trial basis.

br>