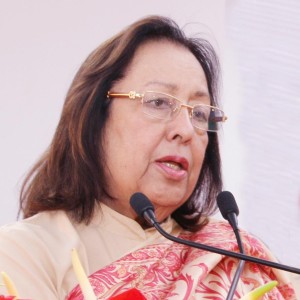 Pressing for the skill development of Indian youth, Minister of Minority Affairs, Dr Najma Heptulla said that several schemes are being undertaken by the government to impart training across the country.
Speaking at the memory development workshop in New Delhi, Dr Heptulla said, "Our Government is committed to skilling the youth. Recently, Prime Minister Narendra Modi launched projects that are aimed to provide training in different skills to over 40 crore people in India by 2022."
She further said that Minority Affairs ministry is offering scholarships for various courses that include technical training and coaching for civil services examination.
The Ministry has a budget of over Rs 3,700 crore out of which Rs 2,000 crore is being earmarked for skill development and scholarship programme, she said.
She added, "Computers and internet facilities are being provided at Madarsas under Maulana Azad National Academy for Skills (MANAS) scheme for upgrading abilities and training."
Mentioning the memory workshop, she said, "Memory is very important and one of the most vital assets of our life."