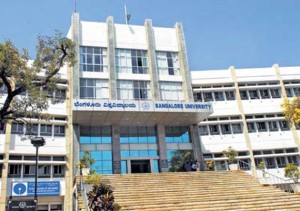 For students who require minimum pass marks in examination and even approach middlemen for the same will now need not to worry as Bangalore University (BU) has revised grace marks system that was scrapped five years ago.

Passing a subject will be easier for the students now. The grace marks system for undergraduate and postgraduate students of BU and its affiliated colleges was approved by the academic council meeting. The system will come into effect this academic year.
The authorities will give 1 grace mark for the semester or per year to each student. If the semester or year has six subjects with total marks of 600, the total grace marks entitled will be six. But a maximum of two marks will be allotted per subject.
Earlier the grace marks were given till 2010-11 academic session and later it was stopped as a practice in the BU. But, the system has been reintroduced on the requests of the students. B Thimme Gowda, BU Vice Chancellor said, "The grace marks allotted to students will be deducted from other subjects in which they have scored high marks."
KN Ninge Gowda, Registrar (evaluation) of BU informed, "Once the rule is approved, if a student fails to get minimum pass marks in a subject even after allotting two grace marks, then he will be given three more marks. However, the student should have scored more than 50 in the remaining subjects.