Aerokids

2012

Name of Managing Director/

Suganthi Arulmurugan, Founder

& MD

Email: 

info@aerokidsindia.com

33A,

Thendral Nagar, 33A, Thanthoni

Karur, India

No. of Franchisees:

40

Contact Details for Franchise enquiry:

Thomas Y +91 8861681736

(Bangalore & North India)

Suganthi P +91 8056387465 (Tamilnadu)
Educational and Professional background of Managing Director/ Founder/Chairman: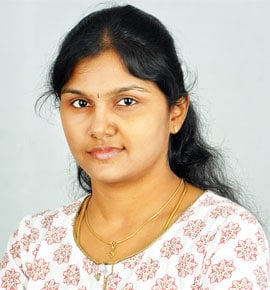 Certified on Master of Computer Application by Anna University, Chennai. Suganthi Arulmurugan co- founded Aerokids in 2012. She has hands on experience in running and operating a pre-school and setting up processes for Aerokids. Prior to founding Aerokids. She has worked for multiple years with leading corporate like Infosys at leadership position.
Background of the Group
Aerokids Pre-school is a venture of Aerokids Education Private Limited. Aero Kids was incorporated under the Indian companies act, 1956, the latest educational initiative from CHRDT (Centre for Human Resource Development Trust), one of the leading non-profit educational organisations in Tamil Nadu who also made substantial contribution to the cause of the under privileged children in the state specifically in the domain of education. The group has been present in India since 1999, through its welfare activities.
Genesis of the Company Aerokids is a chain of pre-schools, incorporated in the month of August 2012. It is a Karur's based organisation, hence we established franchisees initially in Karur and gradually expanded all over South. Today we have 40+ franchisees pan India.
At Aerokids we aim to provide a creative environment, which is both stimulating and challenging. Children learn best through doing and we give ample opportunities to explore experiment and discover with hands-on equipment and materials in an adult directed setting.
August 2012, Foundation And Start of company owned pre-school at Karur
January 2013, Started the Franchising of Pre-schools
October 2013, 9 fr anchisee pre-schools across India
April 2014, 24 franchisee pre-schools across India
January 2015, 29 franchisee pre-schools across India
October 2015, 40 franchisee pre-schools across India
USP
No Royalty
Low Investment franchise
Complete exposure to our training methodology and curriculum
Running successfully across 40+ centres
Creative team
Attractive themes & brand mascot to help children learn with fun
Attractive child-friendly environment
NEW EDUCATION VERTICALS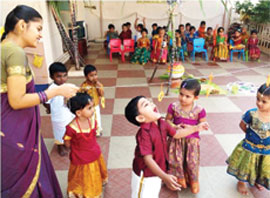 Present Presence & Expansion Programme AeroKids is a popular pre-school especially in Southern part of India and already 40 + branches are running successfully in Bangalore, Chennai, Madurai, Sattur, Salem, Karur, Vellore, Coimbatore, Erode, Tumkur, Pune, Navi Mumbai, Jammu, Varanasi, Bhopal, Baikunthpur, Belgaum, Chinthamani, Patna, Dindigul and Sivagangai.
We run on no royalty model and after initial investment which is itself very low and no royalty is paid at any time. Entire market is open for Aerokids franchise and the scope of expansion is too high and one can even get a State Master franchise of Aerokids play school with minimum cost without any royalty.
Aerokids play school franchise provides different packages of investment depending on the support system you require.
Area and Investment required by the Investor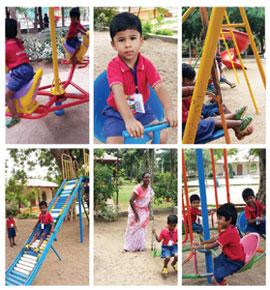 The total investment for starting AeroKids pre-school is about 3.5 to to 5.5 lakhs INR. The premise size for Aerokids franchise should be a minimum of 1000 sq ft. An area of 1000 to 3000 square feet is preferred. The area must be on the ground floor in a residential building. Existing nursery school sites will do. However, since it is a pre-school where children will come to have their future minds and bodies built, a pollution-free location with an open playground is going to be ideal. The environment should be calm with proper ventilation and attached wash room.
Deliverables for the Franchise Owner
Aero kids Pre-school Investment Includes:
Franchise fee for 3 years
Initial training for the franchisee
Curriculum and syllabi
Franchise kit l Furniture for the children
Cost for decorating the school
Outdoor play equipment
Educational toys
Cushion vinyl flooring
Cost of advertising and printing stationeries
Wall art painting or Printed foam board
Office use material
Operating Manual
Please note that the investment does not include tax