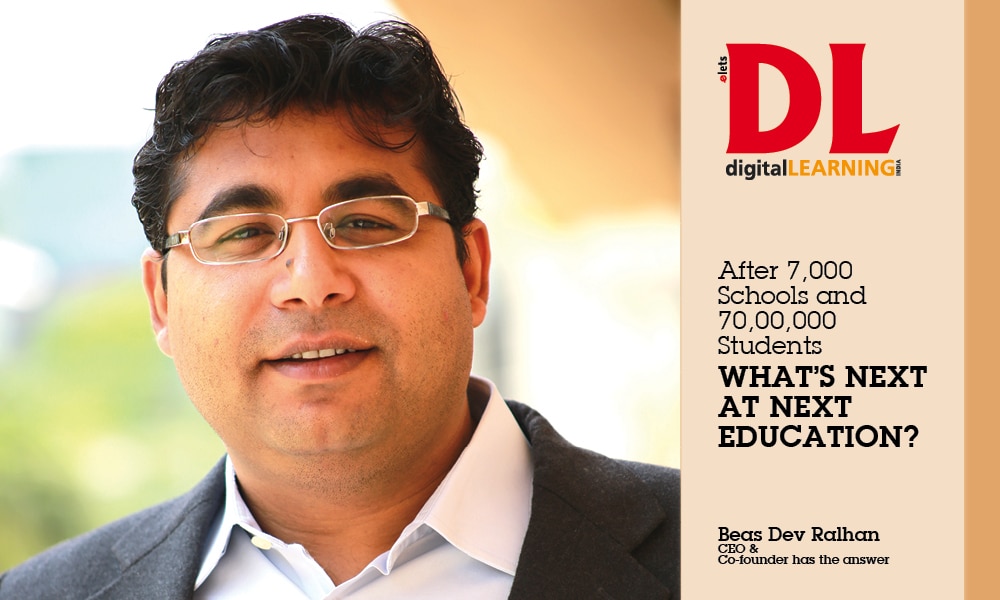 Beas Dev Ralhan, CEO & Co-founder has the answer
Having partnered with 7000 schools and 7 million students, what is your 'Next' step now?
We were among the first few who started out as an education solutions provider in India. After creating a self-learning module called LearnNext, we realised there was a need to improve and enhance the style of teaching in Indian classrooms. It wasn't easy for us to create content at a global level which not only adhered to the Indian education system but also made learning more efficient and fun-filled. It hasn't been a simple task to establish our presence in more than 7000 schools and among approximately 7 million students in last 8 years. Continuous learning and understanding of the industry have enabled us to shape the trends and have led us to become thought leaders.
Next Education's dedicated R&D team has relentlessly worked to keep improving our products and the user experience based on the feedback received. At the same time, they have also led us to branch out into various new product lines like NextBooks, NextLabs and Next ERP.
Products like NextLabs provide a more comprehensive understanding of hands-on learning experience, whereas NextERP is an integrated school management system which streamlines all processes, departments and functions of a school. NextBooks is a complete curriculum solution that combines the best of books, digital content, hands-on activities and gamification, and a comprehensive mentor manual.
We realise that continuous innovation and becoming a 'one stop solution' for anything education is the way forward, and we are out to achieve that.
Next Education Pvt Ltd has recently launched a new initiative "Workshop for Principals" with a view to develop leaders. What was the basic drive behind this workshop?
"Next Academy" workshops for the principal fraternity is a pioneering initiative by Next Education. The aim of this interaction is to engage with school principals, update them about changing technologies, understand their views on current trends, evaluate changing mindsets of classroom teaching and learning, understand the expectations of parents and students and also recognise the life skills that need to be imbibed into students today. At the same time, principals learn from the best teachers out there – each other.
Our workshops emphasise more on making schools future-ready, and so we are extremely meticulous in selecting the points of discussion. This year we plan to conduct 50 principal workshops across India with fresh themes that are in sync with contemporary challenges. We believe that creating thought leaders will impact the entire education ecosystem.
      TYPES OF LEARNERS
The visual learner who sees and learns
The auditory learner who learns by listening
The kinesthetic learner who learns by movements
       Product Line
LearnNext
NextBooks
NextLabs
NextERP
TeachNext

What is your new initiative "Robotics" all about?
How powerful are Robotics as a tool for education? Next Education's initiative NextRobotics aims to promote robotics as a tool for application of concept-based learning in a classroom environment using STEM (Science, Technology, Engineering and Mathematics). Robotics is fast emerging as one of the most powerful tools in education.
The idea is to rediscover and redesign learning by engaging students with a 'query'-based approach and to be creative in solving open-ended robotic challenges. Observing the current scenario of a classroom, we can say robotics is also used as a formative assessment tool in line with CCE recommendations.
What sets NextRobotics apart is that we provide the students everything that they require. From hardware components to build robots to the various softwares required for programming, an easy-to-use kit which can help students to focus all their energies into simply being creative and developing a practical approach. The kit contains many different kinds of sensors that a robot can use to react to its environment and take decisions. Here, students learn many senses like touch, sound and light that can be replicated in a robot.
Further, our robot programming software, THINK, offers a graphical drag-and-drop coding interface to novice programmers. This provides self explanatory programming blocks that enable them to write powerful pieces of code with ease without getting bogged down by complex syntax and constructs of a textual programming language. Real-life problems often do not have a unique solution, but robotics offers students the flexibility to be imaginative and approach the same problems in their own unique way.
These days there is a lot of stress on skill development. What are your views and how is Next Education working towards this?
Skill development is one of the most important agendas for both the government and the private sectors in India. The skill development initiative has become of prime focus to generate employment and entrepreneurial skills in India. Thus, Prime Minister Narendra Modi has launched many schemes like National Skill Development Mission, National Policy for Skill Development and Entrepreneurship 2015, Pradhan Mantri Kaushal Vikas Yojana (PMKVY) Scheme and the Skill Loan Scheme.
From its inception, Next Education was determined to adopt a hands-on style of learning. In order to make the learning process easier, we have created content in such a way that it requires a practical approach rather than just theoretical knowledge.
How popular are your recently launched products and services like TeachNext, LearnNext, NextBooks, NextERP etc. among students and teachers? Are these products more Student-centric or Teacher-centric?
Each of our products TeachNext, LearnNext, NextBooks, NextERP and even Labs provide a distinct solution to a relevant problem that a school might be facing. The good thing is that all our products have been received quite well by schools. However, TeachNext enjoys maximum penetration at the moment.
The underlying idea has always been to make the processes of learning and teaching more enjoyable and fun-filled while imparting the required knowledge. For example, when we learnt how the heart worked, all we had before us was a one-dimensional picture of the heart in a black and white textbook with arrows that depicted points from where blood flowed in and out. That was probably enough for a theoretical understanding, but nothing more than that. Compare this with a student who learns how the heart functions with the help of a multimedia platform and gets to see it in 3D. They acquire a practical understanding of the process, how blood flows in and out and various other functions.
We try to strike the right balance between being student-centric and teachercentric, as we understand that both have to be extremely comfortable with the product. With a product like TeachNext, while a teacher maybe the user, a student is the target consumer. A teacher also needs to understand that these products are only there to further enhance their teaching, not to replace their expertise in any way. That is not possible! Human touch will always be prevalent and a primary requirement in this sector.
    Product Design Focus
    Strike the right balance between being student-centric and teacher-centric

How do the10,000 learning modules make teaching easier and more effective for teachers as well as students?
Our flagship product TeachNext has made end-to-end processes of teaching and learning easier, more engaging and interesting through its rich multimedia content. It is designed in a way that it caters to all types of learner – the visual learner who learns by seeing, the auditory learner who learns by listening and the kinesthetic learner who learns by doing.
Also, with more than 10,000 learning modules and a set of over 500 tools including NextStudio, NextDictionary, NextMaps, periodic tables, log tables and pH indicators, learning is made delightful for the students. While developing the content, we also keep in mind the Continuous and Comprehensive Evaluation (CCE) guidelines.
Using the technology is very easy. A simple hand-held remote can accomplish all the required actions, so the teacher can operate it from anywhere within the class. Teachers can also use interactive touch-boards to demonstrate a more details, zoom in, ask students to THE NEXT ONWARD DRIVE solve problems, etc.
    7k schools, 7m students and growing!
"Exciting news! Elets Education is now on WhatsApp Channels Subscribe today by clicking the link and stay updated with the latest insights!"
Click here!