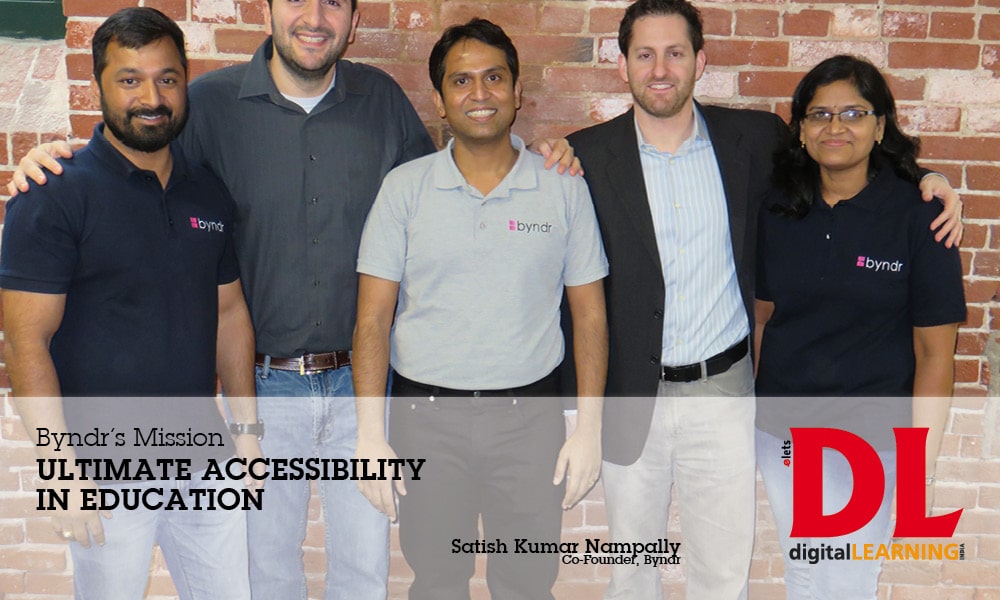 Education has surely become the foremost frontiers for social entrepreneurship and innovation in the digitally developing world of today. Byndr with its roots, both in the U.S. and India, has a global mission to provide students the ultimate accessibility in educational resources. Satish Kumar Nampally, Co-Founder, Byndr speaks to T. Radhakrishna and Sudheer Goutham  of Elets News Network (ENN) about the brand's aim to provide easy-to-use, fast and mobile-first products for all stakeholders in Higher Education
What motivated you to launch Byndr, an Educational Technological company?
Byndr is a US based startup company, with its Corporate Office at Philadelphia and its subsidiary in India. Majorly, there are 5 Co-Founders of this company. Three of them are in the US and two (including me) are here in India. One of the Founders, being in the teaching profession, is working in a business school. We realized the need for this platform, when she told us that she needed to connect with her students after the 60 minutes of physical class. From there we saw an opportunity and all of us collaborated to bring this out. At first, we made the beta version, then we went to University of Pennsylvania, to participate in their yearly event on education Start-ups. For our venture biz idea, we received an award of cash prize worth $20,000. This is how Byndr came into existence.
How does Byndr help in the education sector?
In developing countries like India and Indonesia, where there are not only a lot of Smartphone users, but they usually have to deal with bandwidth issues, due to network etc. Under such circumstances, we thought of creating a technological platform, which can perform in this kind of environment for the education sector. Byndr can connect the two most important parties in the education system the teachers and students on one platform through technology. Therefore, we are a cloud-based, Learning Management System (LMS).
What makes Byndr unique from other companies in the segment?
There are many software companies, which are providing solutions for educational institutions. However, through research we found that out of these, not many cater specifically to academics.
They either cater to the content, or the administration of the college or the transportation and library management. They basically are ERP based solutions. Moreover, the companies which are into academics also, are dealing only into content based solutions. In content based solutions, the teacher gets the ready-made content. It binds the teacher to teach with the content, which she does not own or she has not made. On the other hand, our product makes the teacher manage her own content and teach in her own way.
In what ways are you trying to empower the teacher?
Our product empowers both the teacher, student and college. By now I have visited more than 250 colleges with our software. I have found that, it is the teachers who make the content, deliver lectures in whichever way they want to. Our platform gives ability to teacher to administrator their class, share learning resources in meaningful way to engage their classes and empowering them, we plan to work on Content Curation to help students with additional content and resources.
Where do you see the company in the next five years?
In the next five years, we want to expand to other emerging markets like Indonesia, Brazil etc. We want to create a platform which both, students and teachers can fall in love with. Creating such a platform is a very fulfilling idea. Our main aim is that if a college wants to adopt an innovative technology, they should not think beyond Byndr.