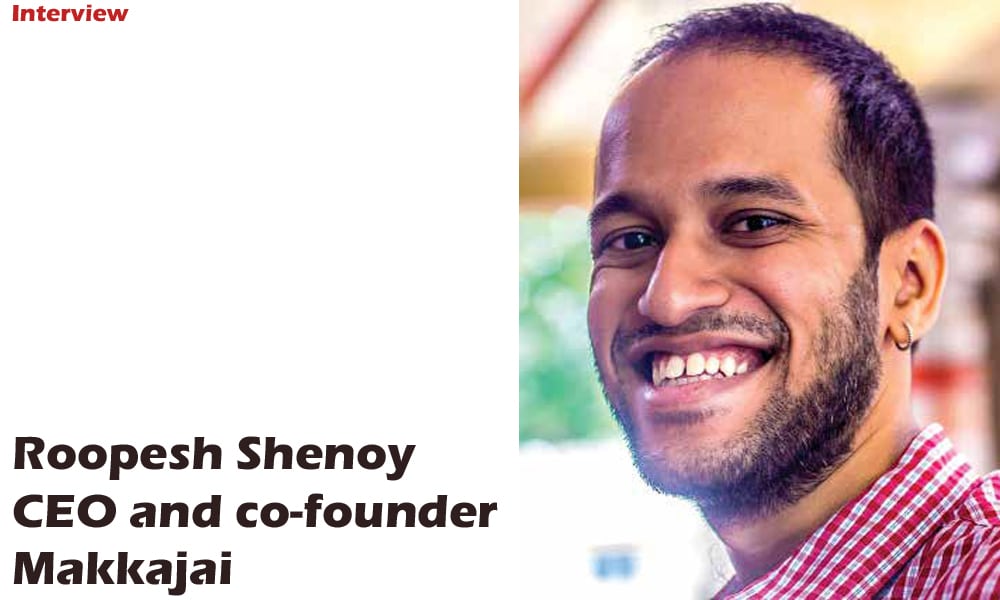 Makkajai was built on the philosophy of engagement, fun and learning games. This startup builds an end-to-end curriculum of educational games, which offer a deep gaming and educational experience. Roopesh Shenoy, CEO and co-founder of Makkajai, in an interview with Elets News Network (ENN) tells much more about the company.
What was the idea behind launching Makkajai?
I was inspired by Sir Ken Robinson's Ted Talk on the subject – called "Changing Education Paradigms". There are many ideas that we take for granted in education today. Things don't work actually in this fashion. In fact a lot of these ideas are borrowed from the industry, like we put students in batches based on their birth date rather than where they stand in individual subjects.

We believe in standardisation more than encouraging diversity. We somehow believe learning need not be fun – it's something that needs to be done, not enjoyed. This is reflected in how little importance we place in engaging students when designing pedagogical content. Curious kids who cannot stop asking "what is this?" and "how does this work", we make them feel, learning is a chore – something that they need to be forced to do.
Testing is stressful and generally done to "evaluate" students rather than helping them to find their weaknesses and improve. It is also done periodically rather than continuously. So the feedback loop is much longer.

Moreover, we have other issues such as high student-teacher ratio, lack of enough talent being attracted to teaching, and so on, that complicate matters. We believe well-designed educational games which offer a deep gaming and educational experience have a key role to play in solving many of these educational problems. These have the potential to engage students and impact learning in a meaningful way. However, for educational games to be effective in overcoming these education-related challenges, they will have to span the entire curriculum of the student – without which mass-adoption will be difficult.
We believe there's a better way via personalised learning, as no two students are same. They need not follow the same path to learn. In order to better personalised learning, we engage students with the help of smartphones and tablets which already is their area of interest rather than forcing students to do something they don't enjoy. We also try to make Testing non-stressful. We also have removed 90% of the mundane work that teachers do. This will allow teachers to give individual attention to students and to inspire the students doing great things.
With this in mind, we decided to start makkajai – which is an adaptive learning platform of highly interactive educational games for kids with reporting features for parents and teachers.
What was the most challenging part of setting up this company?
There were three main challenges: Learning the art, Capital Challenges, and Marketing Challenges.
Learning the art which combines just the right amount of game design and pedagogy – this was something we had to learn from scratch as we had never designed and developed games before.
Capital Challenges – My fellow co-founders were married and have kids and also had education and home loans running. Raising capital – firstly through family and friends and subsequently through some of the best angel investors in India was a great challenge – especially in a tough funding environment.
Marketing Challenges – Learning the art of marketing on the App Store and relevant channels when none of us had that experience was another critical challenge.
Who do you see as your target audience? How are you reaching them?
Our target audience is: Children in classes first to fifth 1- 5th; Parents of children mentioned above; Primary School Teachers, Principals and Primary Schools.
Internationally, we use a combination of App Store Optimisation, Press Coverage, Twitter Outreach and our network of US teachers who are our brand ambassadors to reach out to our target audience.
Additionally, word of mouth is a huge marketing channel for us – accounting for almost of our users.
In India, we are actively building partnerships with Primary Schools, Tuitions, Supplemental Learning Centers (Abacus, Vedic Maths, etc.) and Corporates to ensure deeper penetration.
We at Makkajai want to create a learning environment which is both personalised and engaging. We are doing this by building an endto- end curriculum of educational games, which offer a deep gaming plus educational experience.
We solve some of the most pressing problems in today's education system:
Problem
Non-engaging content and non-interactive content that limits student engagement and leads to attention deficits; thereby causing ineffective learning
Periodic, standardised assessments which limit timely intervention – Learning problems are identified long after the particular topic has already been taught, limiting effectiveness of intervention
Solution
makkajai games are extremely engaging and pedagogically effective – thus, increasing student attention and leading to effective learning
Our reporting engine ensures parents and teachers get a bird's-eye view of student strength and weaknesses to the most granular skills – across all of our games
But perhaps the most important benefit for a child using our products is that he or she starts learning Maths in a stress-free manner and willingly asks her parents/teachers for more. Using Monster Math – we have seen kids get 50% faster at Maths within 2 weeks of using Monster Math (for only 30 mins a day!)
What are the major benefits for institution/ individuals adopting your solutions?
Makkajai is working to create a learning environment which is both personalised and engaging. We are doing this by building an end-to-end curriculum of educational games, which offer a deep gaming plus educational experience. The games also contain reporting features, thereby giving parents and teachers a real-time view of the student's progress and his strengths and weaknesses.
What kind of competition are you facing in this segment ?
Internationally, scaled competitors include Dreambox Learning, IXL, Glasslabs and Mathletics. Most of these are non-India players. In our opinion, there is no competitor in the Class 1 – 5 segment in India which has the audacious vision and the product strength that we possess.
Biggest Hurdle we are facing is to ensure that we cover all the K-5 kids in a span of the next 3 years. We are growing at 30% monthly; but we would like to grow faster!
Where do you see your company in five years?
We see makkajai as the premier ed-tech company offering interactive and fun learning content – mostly games – to the entire primary kids segment not only in India but across the world as well. We see millions of primary kids using, loving and benefiting from our solution by 2021. But more importantly, we also see makkajai being an active partner in nudging the entire education ecosystem towards a more wholesome, fun and far more effective learning environment.n