Kalorex schools follow best education practices and teaching methodologies for the holistic development of children. The group's motive is to develop global learners equipped with 21st century learning skills. Manjula Pooja Shroff, MD & CEO, Kalorex Group, explains their strategies and methodologies in conversation with Elets News Network (ENN).
What is the USP of Kalorex group? What changes have been brought by the brand in the school education space?
There is a huge gap between the demand and supply in education sector of India, compelling schools to follow the best educational practices and provide all round exposure to children. Establishing world-class schools that follow holistic and integrated educational approach is the need of the hour. To meet this demand, Kalorex came into being in 1995.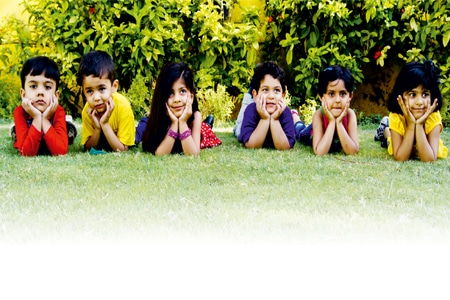 Kalorex, a professionally managed autonomous institution, is focussing its activities on K-21 education since its inception. The group believes in empowering children to succeed in all spheres of life. Currently with 40+ schools and growing, Kalorex follows a cradle to career approach- addressing need of all segments of educational domain.
Kalorex is a preferred choice for high quality education across all segments of the society. The group is one of the most trusted names among parent irrespective of the education boards, be it national or international boards of education.
May it be appearing in Reality shows with Amitabh Bachchan, or pursuing a career in the making of animated movies in Hollywood, or securing Gold medals at Asian Games and other International competitions, Kalorexians are known for bringing laurels to their country resulting out of a diverse exposure given by the Kalorex institutions and its relentless pursuit for excellence, each and every time.
What is the philosophy followed by the group for imparting education to the students?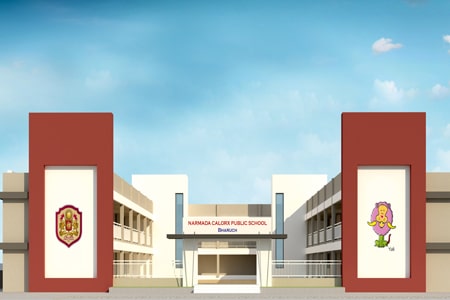 Kalorex believes in developing Glocal learners and nurturing them as better human being. The word 'Glocal' refers to global citizen with local adoption. At Kalorex, each and every child is equipped with 21st century learning skills along with financial literacy, linguistic competencies, digital literacy, media literacy, life skills and self learning skills along with values and traditions of the countries that it operates in. This enables every child to become an asset for the country.
Kalorex follows a unique pattern of curriculum named as "Taxonomy". The curriculum is developed in house by the best of teachers and academicians by incorporating and amalgamating globally acclaimed teaching learning practices and methodologies in education. The Kalorex curriculum emphasise on innovation in education with technology as a learning tool and with support from teachers as mentors.
Kalorex believes in developing Glocal learners and nurturing them as better human beings. The word Glocal refers to global citizen with local adoption. At Kalorex, each and every child is equipped with 21st century learning skills.
As a brand, how do you differentiate from the various other school brands operational in the country?
Kalorex is a well-established name in education sector. It is managed by a group of professional edupreneurs and chaired by a President of India awardee for her work in education and social sector. The group is also supported by leading education industry stakeholders and funded by a private equity partner specialised in education sector. The group is high on culture, values and ethos, catering to the entire spectrum of learners from preschool to university across all segments of the society. Technology and research based pedagogy across all Kalorex institutions have resulted in the development of the best brains of the time. The alumni of Kalorex are placed at leading corporates, business houses, research, space and defence institutions across the world.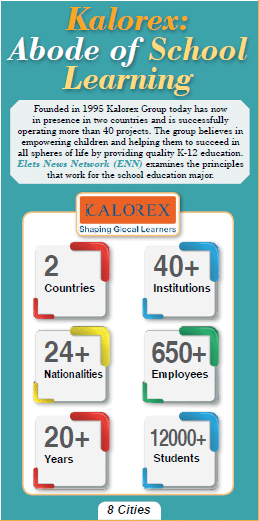 The objective of shaping Glocal Learners is embedded into the DNA and ethos of more than 650+ employees who are dedicated to the cause of Kalorex.
Dynamism, humanistic approach, living in the gap (Continuous Learning Mode), Ownership etc. are the beliefs which are practised by every Kalorexian every day.
The school franchisee business is blooming rapidly and a lot of new players are joining the fray, how does Kalorex safeguard the interests of the partners?
Kalorex believes in replicating its success formula not only for itself but also for the associated partners. A win-win relationship is very important in education. Thereby Kalorex sees it collaborated as partners in progress.
Kalorex is well-equipped to accommodate and accept the constantly changing dynamic environment in the field of technology, human resources, skill development and government policies.
Kalorex also provides to its clientele a platform for online support, educational accessories, content and other tools towards knowledge enhancement, personality development and making a career for every child.
How does your brand ensure the quality of all its partner schools?
In order to ensure the quality, we have a structured operational code for processes and procedures, an end-to-end support system, well-defined training programmes and schedules complimented by strong systems and methods of audits and feedback mechanisms. Along with it a specialised team mentors all the partners to ensure the same standards of quality across all the schools under the Kalorex umbrella.
What is your vision for the brand and how do you see the expansion for the brand happening in near future?
In the next five years, Kalorex envisions to have its presence with over 100 institutions across the country. Multiple investment models will offer good returns on investment and better brand value to the partners of Kalorex group. The group will continue its endeavour in providing best quality education and thereby raising its own standards and benchmarks.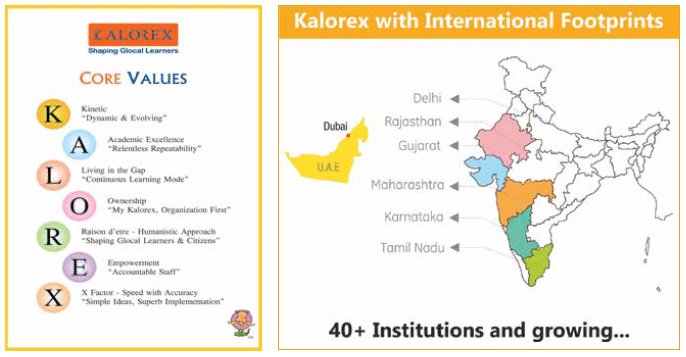 What are the challenges of operating a school chain in the country?
Challenges make one think beyond comfort. Challenges help one to innovate, succeed and accomplish. Kalorex believes in being ready to face challenges in its endeavour to provide quality education to all segments of the society.
What are your plans for expansion in India and abroad? In which regions are you planning to expand?
Kalorex wishes to expand to 100 cities across India. Internationally we have our presence in the Middle East and other countries of Asia through a strong network of business associates. The 40+ institutions of Kalorex is a mix of selfowned and investment led partnerships by Investors who wish to make a mark in education.
How is the technology used to impart education in k-12 learning?
Teacher and Technology are two important aspects in a child's life. Teacher as a mentor and Technology as a tool help every child at Kalorex in becoming a Gocal Learner.
Kalorexians are trained on a 360-degree environment. May it be for teaching learning process, communication and interacting channels, ERP systems , Robotics and Virtual Reality , self-learning, Flip classrooms, Research and Innovations, technology helps teachers and students to teach and learn through the best practices.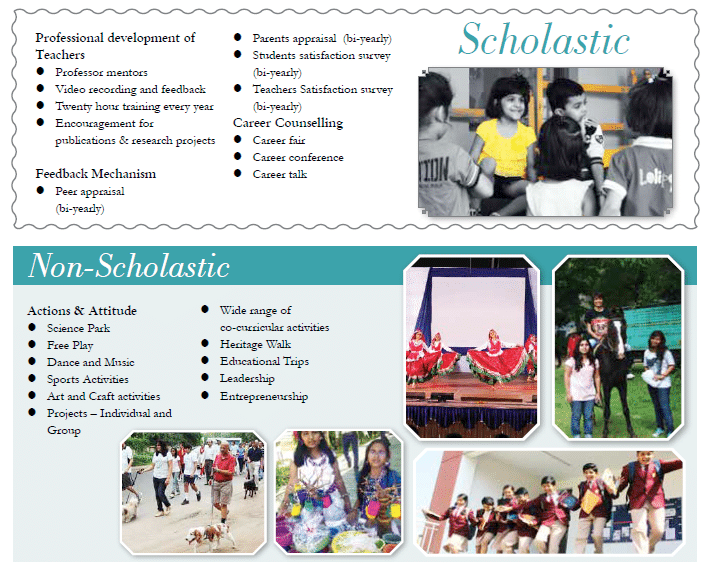 Follow and connect with us on Facebook, Twitter, LinkedIn, Elets video
>