From for-profit enterprises, corporate leaders, academicians, innovative social firms to policy-makers – the complete education ecosystem is working towards espousing the cause of quality education and implementing innovative solutions commendably. Alok Jha, Managing Director, CyberPlat India Pvt Ltd explores the initiatives taken to enhance the quality of education for Elets News Network (ENN).
Although we have made tremendous strides so far as education goes, education is considered aspirational today. Parents spend their hard-earned money on enrolling their children in the best of schools, having access to innovative products to impart learning. However, the learning quality is poor. Unlike the physical infrastructure, the soft infrastructure and resources haven't kept pace, resulting in poor quality of teachers. The story is no different with private schools too. However, there is no point in having come this far if the children in schools are not learning anything. So what could be the solution?
We can categorise the education-focused organisations into four divisions: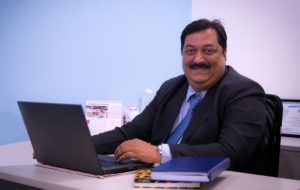 Institution builders: Organisations like popular NGOs and corporate foundations are building schools to address the issue of education. They serve as model schools that are used as grounds to pilot, test and prove models. The learnings that emerge out of these schools are subsequently shared with other schools.

Learning product creators: Organisations that are creating product-based solutions to address specific learning problems come under this category. The products could be technology-based, hands-on kits or a replicable methodology of intervention. These products could be delivered through schools or as after-school / out of school programmes. Across non-profit organisations and for-profit organisations, there is a strong focus today in creating products that are able to achieve scale, improve a measurable indicator in the short- to mid-term. Each of these products and solutions reach thousands and lakhs of students, receive strong grant and equity funding support and target parents who are increasingly willing to pay for good quality.
Institution Enablers: Organisations that view education as an institutional problem and are keen on building the capacity of schools. They focus on building the capacity of teachers, the school administration, and create institution-level intervention programmes.
Community-led Enablers: Organisations working in tandem with the community to strengthen the demand side in terms of awareness, engagement and action fall in this category. Most of them started with the community as the unit of engagement and realised the value of education.
If we come to think about the question of quality, and ask ourselves what the key determinant to quality is, we will realise that since education is completely a market-driven phenomenon, educational institutions only offer what its customers (parents in this case) value. Unfortunately, parents who are sending their children to school today are unable to engage with institutions on matters of education quality. If parents view snazzy uniform, spoken English and physical infrastructure of school as parameters to assess quality, then schools will ensure these areas are focussed and projected. For quality education to become a reality, it is imperative for the community to know what quality stands for and make it measurable. Once this issue is addressed, the institutions will adapt to change automatically. This should be a matter of greatest urgency.
I personally believe, the three pillars of quality education are quality teaching, quality tools for teaching & learning and quality environment for teaching and learning. I have listed below my thoughts on these critical parameters individually.
Quality Education: Quality teaching could be ensured through the recruitment of high calibre resources, imparting regular training for continuous professional advancement. Teachers are the most important educational resource and a critical determinant of quality and hence it's high time we look at revising their salaries and improving their working conditions to retain the best teachers.
Quality tools for teaching and learning: Including appropriate curricula and inclusive teaching and learning materials and resources can help us achieve this. These may be provided, through the application of information and communication technology, that is, by harnessing the enormous power of the internet and the capacity and accessibility of modern technology to assist and support teaching and learning.
Quality environments for teaching and learning: We need to create a supportive, comfortable, safe and secure environment, with the appropriate facilities to encourage student learning and to enable teachers to teach effectively. A quality environment also engages parents, students, teachers, school authorities and support staff in a community, working together to achieve the goal of providing quality education for all of its students.
One other critical aspect to quality education is harnessing the power of technology. With the aid of technology, teachers can collaborate and share their resources online and ensure quality access to education, for all. Students can use technology to develop valuable research skills, at a young age. Teaching fraternity, as well as student community can access an extensive range of quality resources from the confines of their home. Further, online learning is an equally credible option in today's age, as it gives tremendous scope for interactive learning.
I believe the onus of imparting knowledge and initiating discussions and dialogues on improving the quality of education, lies with all of us. When this generation of parents, having sold their homes and pledged their savings and future, in order to send their children to schools, realise that their children are neither employable nor educated, it will be a mammoth task to convince the next generation of parents to even send their children to schools. Let us all join hands in realising this dream of achieving quality education into reality.

br>