As social media is fast turning an integral part of life for many, it seems it should no more leave anyone surprised if one's social media activities may be checked to evaluate an individual. The trend is popularising among admission officers, HR professionals to check aspirant's social media accounts, a report by Dipen Pradhan of Elets News Network (ENN).
The trend is quite popular in awarding placement. In fact, some sectors encourage employees to use social media as a tool to improve the marketing approach. Teachers may as well check students social media activities. It should not sound too surprising that some college admission officers may check student's social media activities during admission.
Why? Experts opine, it may help aspirants in portion during admission or placement, and it may not if their activities are disparaging and defamatory as the interactions maintained in the social media platforms are viewed as 'public activity' notwithstanding of users' privacy controls or followers size.
Social network users in India is estimated to reach 258.27 million in 2019 from 168 million in 2016. The number of Facebook users were at 2.07 billion in 2017 3rd quarter, Twitter users at 22.2 million in 2015, and LinkedIn users at 33 million in 2016 January.
Replying to a question: Is evaluating social media activities right measurement of one's abilities or personality before admission in higher education, Gauhati University College Development Council Director Dr Biswajit Sarma, said: "This should not be the criteria for selection. It is the role of the institutions to take the lead in providing students with a quality education and character building opportunities."
Tumkur, Karnataka-based Sri Siddhartha Academy of Higher Education Vice-Chancellor Dr Balakrishna P Shetty feels it is a good practise. He said: "Although we don't do it, I feel it is a good practise because their (students) social media activities give an institution an idea how good is the student, although in a face-to-face interview they present themselves good."
Sambalpur-based Gayatri College of Pharmacy Director Dr AK Satpathy said: "Yes the personality or activities of students/teenagers must be taken as a determinant factor for admission into higher education. If the definition of personality is analysed, it is nothing but overall characteristics of a person through which he tries to express himself before the entire world. Activities in social media is the reflection of his or her personality through which the orientation of the youngster can be ascertained and given right direction to choose the career path."
"Youngsters activity in social media provides a wide range of scope to know their taste and preferences and accordingly new curriculum can be designed. Apart from the behavioural issues the activities of youngsters in social media exhibit their potential skill which needs to be cherished, developed and retained through higher education," Satpathy said.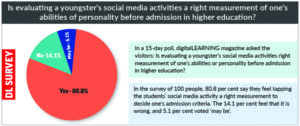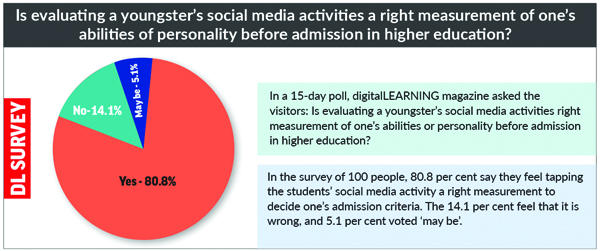 Mixed Public Response
"I don't think one should be judged on that basis. Everyone has the right to get a higher education regardless of abilities, personality," Pemala Tamang, a teacher said.
"I think so, as it shows a part of the person's character which can help in knowing the personality of the person along with his/her ability like thoughts, talents, etc," reporter Reza Pradhan says.
"Yes because the millennials, due to circumstance, owe up a lot on social media. No, as social media is yet another platform. Anything one says or does, it necessarily mean anything, but to put this as a variable to evaluate for higher education is wrong," Siddharth Pradhan a manager of a travel company said.
Industry Perspective on Checking Aspirant's Social Media Accounts
Ericsson Talent Acquisition Leader Saurabh Sharma, said: "It depends on what kind of role a person has applied. I would rather focus on searching someone on the skills for the job. If it is not fitting within the required skills, I don't think the recruiters have time and bandwidth to actually go and check the social media channels. Especially, if the channel is a personal channel, I don't think we can derive any benefit out of it. "

Does it help the aspirant? "If it is in LinkedIn, which is a professional social media platform and if somebody is active in the area an individual is working, for even business leader or talent acquisition leader, definitely the chances of recruiters spotting that person is high. In that case, it works," Sharma said.
Denave Symbiosis Institute of Business Management Global HRD Samriti Malhotra, said: "It is very useful. I'd say that more than 50 per cent of hirings is happening through the social media platforms."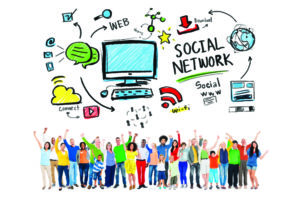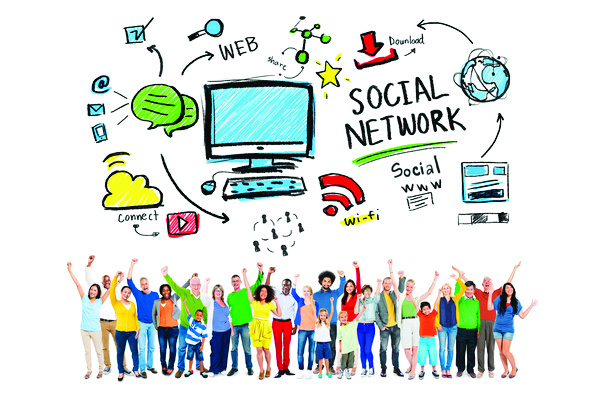 It would be no exaggeration to say that social network activities can become a boon while seeking placements through various social media platforms, and is a helpful marketing tool to boost the admission process for any learning institutions due to its user-friendly approach, but evaluating students social media activities should not be the only measurement for admission officers to award admission to students.