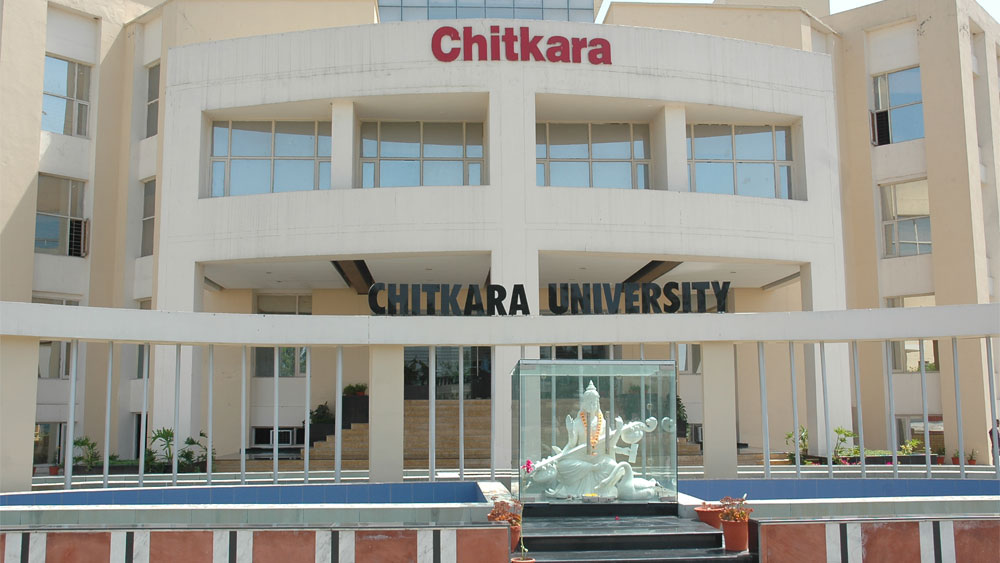 The University aims to be a globally recognised organisation encouraging academic excellence through interdisciplinary applied research and to expand realms of knowledge through innovation. In the year 2002, Chitkara Educational Trust founded its Punjab campus and Chitkara University was established by the Punjab State Legislature under "The Chitkara University Act" in the year 2010. Being one of the best universities in Punjab, it is recognised by the government with the right to confer degrees as per the Sections 2(f) and 22(1) of the UGC Act, 1956. Presently, it has more than 13,000 students and 800 faculty members. The university has a sprawling campus of 65 plus acres of land with 40 percent of green landscaping. It has world class laboratories with ICT facilities.
The campus is equipped with sports facilities, playgrounds/ tracks, in-campus banking, courier, and shopping facilities. Chitkara has 12 schools of engineering, management, architecture, nursing, healthcare, pharmacy, media, arts & design, education, hospitality, applied sciences, and applied engineering. The university also has industry tie-ups with renowned organisations. Ranked among top 20 private universities of India, it has unmatched record of the best placements in top companies such as Infosys, Deloitte, Google, L&T, Godrej, SAP, Pepsico, Ericsson, Microsoft, Wipro, HCL, Hindustan Lever Limited, EClerx, Morgan Stanley, Citibank, Standard Chartered Bank, Ernst & Young, Evalueserve, Phillips, Dabur, and many more for the students of engineering and management.
Also Read: Chitkara University: Expanding Realms of Knowledge through Innovation
Unveiling the Path to Research, Education, and Innovation
The prime motive of Chitkara is to carry out the academic process for achieving excellence through active teacher–student–industry participation. It marches ahead with the objective of inculcating high moral, ethical, and professional standards amongst the students, and contributing to building a skillful society.
Chitkara University Research & Innovation Network (CURIN) provides huge innovation and research opportunities for the faculties in terms of many flagship programs, patents and copyrights, various consultancy projects, conferences, workshops, seminars, extension lecture, leadership excellence awards and recognition, and so on. Nearly 200 patents filed by the university speak volumes of its success in research space. They are strong in creating start up opportunities for their students through Centre of Entrepreneurship Education Development. Currently, more than 100 student startups are operational and the university is very rigorously building ecosystem for budding entrepreneurs.
Dedicated Faculty
"Explore Your Potential" is the tagline of the university. They employ a group of talented faculty which includes academic scholars, experts who advise top Indian corporations, and the authors of important texts in technology and business. The university also has faculty who develop fresh approaches in labor relations, information management, human resources, and many other fields. Chitkara organises Global Week every year in which more than 75 accomplished, eminent, and distinguished faculty from around 22 countries, across 53 universities from six continents conduct educational sessions for more than 3000 students.
Noteworthy Alumni
Chitkara has produced around 30,000 graduates who have been successful at various walks of life and are very well settled across the globe. Pranav Arya(ME Batch 2002) is a pilot for the President of India and Shivum of CSE Batch 2003 is a MiG Fighter Pilot. Amandeep Singh Sidhu (ME Batch 2002) is 2nd Lead at Amazon in California. Ushank Khanna(CSE Batch 2003) is working in the New York Stock Exchange. JaiveerBawa(Batch 2009 CSPA) is working with CENTRUS and is a visionary architect and project manager for the Parliament Hill Rehabilitation project which is currently the world's largest rehabilitation and heritage restoration project ever undertaken. Gunraj(CSE Batch 2011) is working with Google. Gunveen Kaur(CSE Batch 2003) is HCL Lead and Hema Nagpal (CSE Batch 2011) is working with Toshiba,a Japanese multinational conglomerate headquartered in Tokyo.
Momentous Accomplishments
Throughout its illustrious journey of delivering excellent academic and career opportunities, Chitkara University has achieved numerous milestones. It has collaborations with more than 150 universities around the globe. Some of the notable achievements of the university include:
Chitkara University has been awarded as 'Best University in North India 2018' for outstanding contribution to education and skill by CEGR, Centre for Education Growth and Research
Chitkara University has been ranked sixth in the 'North Zone'& 20th in 'All India' in the category 'Top Private and Deemed Multidisciplinary Universities' by The Week–Hansa Research Survey 2018
The university has been awarded "Best Private Engineering University of North India" by Dialogue India Magazine
The Academic Insight Magazine ranked Chitkara Business School as Business School of the Year
Business Standard rated Chitkara Business School "Best in Punjab" and amongst Top B-Schools of India in a B-School survey conducted by IMRB
India Today ranked Chitkara Business School 68th among top 100 B-Schools of India and Best in the Region in 2018
Outlook ranked Chitkara Business School 64th among top 100 B-Schools of India
Careers360 rated Chitkara Business School AAA+ and Best in the region in 2018
Chitkara University has been awarded with 'Certificate of Excellence' by Virtusa, for being the premier institute for Centre of Excellence in JAVA & Cyber Security
Chitkara University bagged Overall Championship Trophy at All India Inter Zone University Tournament
Chitkara University Ranked 4th among Top Indian Universities for filing 46 patents as per IPR Annual Report 2015-16
NIRF Ranked Chitkara College of Pharmacy 50th under Pharmacy Category.