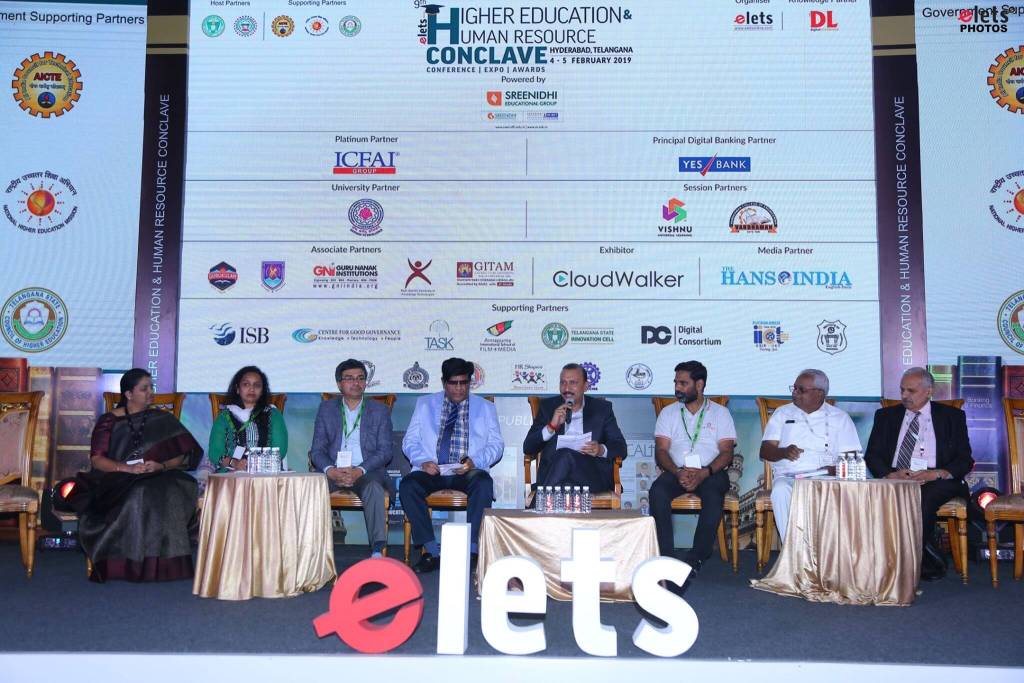 Every industry across the globe is witnessing transformations especially in terms of technology and improving the processes. Seeking this, it is very important for the education sector to be in line with the growing demands. But, it is also true that for education sector it is not possible to take the lead alone. It will be needing support from industry as well as the Government.
In line with this, at 9th Higher Education and Human Resource Conclave Hyderabad, a session on the above topic was held where eminent leaders from all the three sectors: Government, Industry and Education participated to discuss the challenges and opportunities.

There has been a demand for academia-industry collaboration since long and now the Government is also becoming important to decide the future of youth. It is now common to hear from industry that there is lack employable youth. At the same time, educational institutions have their constraints in not doing so. They sometimes blame Government for not making such policies and sometimes the industry for not collaborating with them.
 Talking on this, Navin Mittal, Commissioner, Collegiate and Technical Education Department, Government of Telangana suggested a solution during the panel discussion which may help all the three sectors to overcome the challenge. He said, "With continuous demand of employable youth, the onus now lies on both the industry and the academia to collaborate mutually so that both can work in sync to nurture industry-ready youth. Here, Government can act more as a facilitator by implementing policies relevant for the same."

Dr Narsimha Reddy, Executive Director, Sreenidhi Institute of Science & Technology was also having the similar thoughts on the topic. He said, "As far as adoption of latest technology is concerned; colleges require greater collaboration with the industry convened by the Government. It will not only help the institutions to know the latest trends but also take steps to meet them."
During the discussion, industry experts and educationists have come up with various solutions that may help the Government, academia and industry t bridge the gap.
Understanding industry needs:
Teaching theoretical concepts only is not going to help a youth in getting a job in today's scenario. The educational institutions now need to focus on the skills which will help youth in becoming a productive employee. It can only be done by understanding what industries are looking for in their employees.
Explaining the same, Chief Human Resources Officer of Karvy Fintech Pvt Ltd, Pradipta Sahoo said, "While hiring a person from any campus the things that matters to us the most are aptitude and attitude. We look out for how soon the person can achieve the organisational objective in terms of productivity in future. We also try to figure out the person's zeal towards learning new things."
Becoming Innovative:
Nowadays, it is not only about becoming an industry-ready employee. Industries are looking for the skills more than that among its employees. The most in-demand skill from industry perspective is becoming innovative in their ways of working. Following the traditional methodologies are not what companies are looking rather they want the employees who can improve the productivity and processes through their creativity. So, colleges need to focus on the same as well.
Talking about the same, Pratyusha sharma, Senior Director – HR, Cognizant India, said, "At this point of time, what we look in a person is the efforts for innovate, incubate, and decision making other than the knowledge of domain, process, what they learn on the floor and for the client. It took us three to six months to train them in skill like communication."
Mutual support among colleges and industry:
Initiatives from the industry only or from the education sector only are not going to help any of the two rather it should be collaborative in nature. The two should try the ways which can help them improve mutually. Reputed colleges can help small business in terms of infrastructure and may gain a lot in return.
Suggesting the same, Industry expert GR Reddy, Founder, Husys Consulting Ltd, said, "One practice that reputed colleges can follow is to provide the infrastructure to new businesses, start-ups or small businesses. It will increase the communication between the industry and students as well as help students to inculcate business sense among them."
Learning life skills:
Institutes also have undertaken various initiatives not only in line with the industry demands but also to provide their students world class education. It seems necessary to train students in life skills and organizational skills so that they can not only be successful in professional life but also in the personal life.
Describing about the same, the senior bureaucrat Dr A Ashok who is also Commissioner & Secretary – Intermediate Education, Government of Telangana and Vice Chancellor, IIIT, RGUKT, Basar, Telangana, has said, "So far, the institutions have focused on Intelligence Quotient (IQ) but now it's time to focus on Emotional Quotient (EQ). It will help in inculcating industry required skills like communication, leadership, inter personal relationship, and team player etc."
Suggesting the methodology to inculcate creativity among students and also fetching innovative solutions for any problem, Dr T G Vijaya, Director, PSG Institute of Management, Tamil Nadu, said, "It is important to foster creativity among students. As far as my institute is concerned, we create at least 10 groups of students who work separately on the same topic or project. It helps us to get different perspectives as well as 10 innovative solutions for one problem."
Prof V K Rattan, Vice Chancellor, GNA University said in this regard, "In line with industry demands, it is important for all the institutions and universities to start courses that may train students in the required skills. We have started several such initiatives which are helping students to be industry-ready."
It can be said, Government and industries role can't be ignored as far as building the future of youth is concerned. Any one of the three not playing their role up to the significant extent will lead to the similar challenges and also the problems derived due to it. The three have to collaborate not only for building employable youth but also for developing a strong economy.