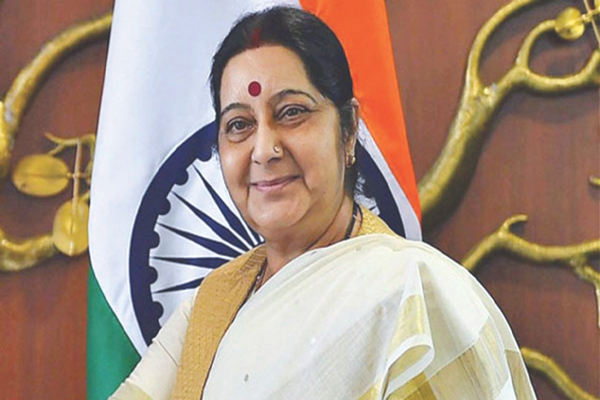 The sudden demise of Sushma Swaraj in late hours of Aug 7, 2019 (Tuesday), a political stalwart of Bharatiya Janata Party, has left the whole country in state of shock and distress. She was one of the rare politicians who was loved and admired by everyone irrespective of their political views.
The former external affair minister breathed her last at AIIMS, where she was rushed following the cardiac arrest at 9 PM, merely two hours after her tweet congratulating Prime Minister Narendra Modi for the historic decision to scrap Article 370 in Jammu and Kashmir.
She wrote, "Thank you Prime Minister. Thank you very much. I was waiting to see this day in my lifetime".
Swaraj, who possessed exceptional orator skills, was considered as a motherly figure among countrymen because of her unique approach of solving the problems of common people. Sushma Swaraj was one of India's most followed and beloved politicians on Twitter with over 13 million followers.
And not only in the country but across borders, her popularity was unmatched thanks to her quick-wittedness and benevolence and the commitment to go an extra mile every time someone pinged for help.
In October 2016, she melted hearts with a tweet where she shown her concern for a 'daughter' of Pakistan saying, "Aliya – I was concerned about your well being kyonki betiyan to sabki sanjhi hoti hain".
The tweet was in response a lady named Aliya Harir, who tweeted, "Extremely overwhelmed. Spoke to @SushmaSwaraj ji who assured that Pakistani delegation of #GYPF2016 will reach Pakistan back safe."
And this is not the only instance; there are numerous occasions where Swaraj's humanitarian approach while dealing with issues of international importance made her a fan favourite.
Remembering the great human being that she was, digitalLEARNING takes a look at the educational journey of Sushma Swaraj, the second ever woman in country's history to take charge of the external affairs ministry after Indira Gandhi.
1. Sushma Swaraj completed her bachelor's degree with honours in Political Science and Sanskrit from Sanatan Dharma College of Ambala Cantonment.
2. She did a degree course in LLB from the Department of Laws of the Punjab University in Chandigarh.
3. She received the best student award from SD College, Ambala Cantonment, in the year 1970. Besides, for three consecutive years, she also won the title of best cadet of NCC.
4. She won the best Hindi speaker award in a state-level competition held by the Language Department of Haryana. Not once but for three consecutive years.
5. Apart from the academics, Sushma Swaraj was par excellence in extracurricular activities also. She received various awards of distinction in debates, recitations, rhetoric contests, dramas and other cultural activities.
6. Besides being a keen reader of poetry and literature, Swaraj also took interest in classical music, fine arts, poetry and drama.
7. At Punjab University, she was declared the best speaker in Hindi at the AC Bali Memorial declamation contest. She was also awarded the university colour there.
8. For four years, she remained the president of Hindi Sahitya Sammelan of the state of Haryana.
The untimely demise of Sushma Swaraj has left a big void in the Indian political scenario which is difficult to be filled anytime soon. As PM Modi in her tweet mentioned, "a glorious chapter in the Indian politics has came to an end".
Both her personal and professional journeys will be an inspiration for many in the times to come. From becoming the youngest Cabinet Minister of Haryana at the age of 25 in 1977 to taking over as the Minister of External Affairs at the age of 62 in 2014, Sushma Swaraj's role in politics has been quite significant and predominant.
Sushma Swaraj has been cremated with State honours at Lodhi Crematorium in the presence of top dignitaries, including PM Narendra Modi, who came to the crematorium to pay their respects to the departed soul.