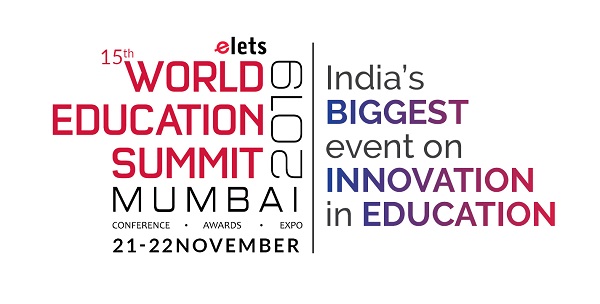 Higher education has a special value in the emerging knowledge society. It contributes directly as well as indirectly to the wealth of a nation. Therefore, the country's future depends on a massive expansion of education particularly at higher education level.  Apart from having best-in-class post-secondary education system, by 2030, India will have the largest population in the world resulting in increased number of students eligible for higher learning and educational courses.
Likewise, in a bid to showcase the innovations, initiatives and best practices being followed across the globe in the higher education space, Elets Technomedia Pvt Ltd in association with Government of Nagaland, Government of Manipur, Government of Uttarakhand, and Government of Telangana, is going to organise the 15th Elets World Education Summit 2019 Mumbai on 21-22 November.
The Summit is scheduled to be inaugurated by Dr Dhan Singh Rawat, Hon'ble Minister for Higher Education, Cooperatives and Dairy Development, Government of Uttarakhand in the presence of Thokchom Radheshyam, Hon'ble Minister for Education, Labour & Employment, Government of Manipur;  Temjen Imna Along, Minister of Higher & Technical Education & Tribal Affairs, Government of Nagaland; Dr. Satish Chandra Dwivedi, Minister of State, Basic Education, Government of Uttar Pradesh.
The two-day long summit also going to witness the presence of eminent dignitaries, including Shuchi Sharma, Secretary, Higher & Technical Education, Govt of Rajasthan; Dr A. Ashok, Secretary & Commissioner, Board of Intermediate Education, Government of Telangana; Mangesh Karad, Executive President, MIT- ADT, Loni Kalbhor; Kunwar Shekhar Vijendra, Chancellor, Shobhit University, Meerut; Bhamidimarri Rao, President, Institute of Advanced Research, Gandhinagar and many more.
The grand conference will offer a big knowledge-exchange and networking opportunity to all the participants and speakers from the higher education sphere. During the educational extravaganza, over 700 delegates including edu-leaders, edupreneurs, edu-investors, chairmen, CEOs and MDs of various colleges and universities, will share their thoughts, and figure out new methods to impart education in a better way within two streams of the event.
Key discussion points of the summit will include: New National Education Policy: Implementation and Assessment on the ground; New Age Learning: Interactive, Blended & Self; Data, Artificial Intelligence and the Future of Student Enrollment; Future Skills for Employability & Entrepreneurship of Technical & Management Education Graduates; Flipped Learning Collaborative and Problem-based Learning and many others.
Over 100+ exhibitors will showcase latest innovations adopted across the world at the summit. It's a big opportunity for esteemed colleges and universities to network with globally renowned organisations, improve their customer base and choose the best and most suitable practices for their institutions.
At the 15th Elets World Education Summit 2019, higher education institutes will also be awarded for their exemplary contribution to the education space.