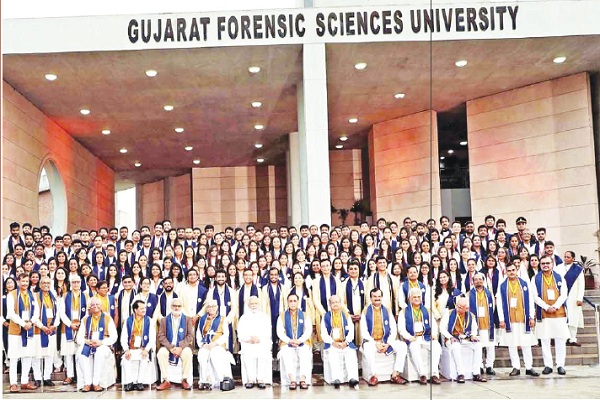 Given the long tradition of providing quality education in the country, the institutions of higher studies and universities of Gujarat clearly have an edge with regards to encouraging government policies and programmes, a well-developed education infrastructure, good learning environment and a long list of internationally-recognised alumni from state universities and colleges that make it worthwhile for international students to pick the study courses of their choice.
A fresh burst of energy is driving the education sector of Gujarat today. The state government, led by Chief Minister Vijay Rupani, has embarked on a mission to make Gujarat a world-class education hub and set a target of having 10,000 foreign students studying in various universities of the state by the year 2022. "Around 2,000 students are presently studying in world-class universities in the state like Forensic Sciences University, (Pandit Deendayal) Petroleum University, Nirma University, etc. We want to make Gujarat a global hub of education and provide more opportunities to foreign students for studying in universities of the state," the Chief Minister said recently while addressing students on the campus of Saurashtra University (SU).
Given the long tradition of providing quality education in the country, the institutions of higher studies and universities of Gujarat clearly have an edge with regards to encouraging government policies and programmes, a well-developed education infrastructure, good learning environment and a long list of internationally-recognised alumni from state universities and colleges that make it worthwhile for international students to pick the study courses of their choice.
Nobel laureate Venkatraman Ramakrishnan, who became a household name in India after being awarded the Nobel Prize for Chemistry in 2009, had graduated from Maharaja Sayajirao University in Gujarat in the year 1971 before leaving for a new life in America at the age of 19. He said in an interview recently that "British education is one of the narrowest in the world. India is better than England in that when you go to high school you can take a lot of subjects. Not take (only) three subjects like here".
Ramakrishnan, who is currently serving as the President of the Royal Society UK, did his PhD in Physics from Ohio University, but later moved away from Physics towards Biology, a route from the physical to the living sciences that has been followed by many key researchers. On the potential of research, Ramakrishnan, believes that India has a unique biodiversity and ecology which opens up the possibility to do "first- rate work not being done anywhere else".
THE VISION
The Department of Higher and Technical Education, Government of Gujarat focuses on nurturing the employable, positive and aspirational generation of lifelong learners. Such traits help the youths of the state to sustain in this competitive and quality conscious era of globalisation.
In order to make the youth employable and to make the college campuses conducive for the holistic development of the students, the Department of Higher and Technical Education in Gujarat has several key areas of concern that need to be addressed are quality education, accessibility, facilities and employability. These are the key drivers for the enhancement of education in the state.
EMERGENCE OF GUJARAT AS AN EDUCATION HUB & INNOVATION HUB
Gujarat was the first state in India, where Nobel Prize lecture Series was launched in January 2017 in Gandhinagar. It coincided with the Vibrant Gujarat Summit held by the state government. The discussions centred on the themes of 'Vibrant Gujarat Science for Humankind' and 'Science as the Engine for Economic Growth'.
"We have put in place a research-driven education policy and want the youth to take advantage of the state's start-up policy, research and register new patents. We want the youth of Gujarat, which is known as an industry-oriented state, to aspire not for jobs but to create jobs and thereby contribute in tackling any unemployment," said the Gujarat Chief Minister while underscoring the policy initiatives taken by his government.
Gujarat is also the first state where an end-to- end ecosystem development approach has been adopted and three different support schemes by Department of Education, S&T and Industry have been put in place according to Anju Sharma, Principal Secretary, Higher and Technical Education, Government of Gujarat.
The state is sharply focussed on accreditation and assessment, reforms in governance system, faculty development programmes, research and innovation, industry academia collaboration, career guidance and employability skills, promotion of government initiatives like Skill India, Digital India, Startup India, etc., use of ICT, internationalisation of higher education, and addressing regional disparity.
The unique initiative of Academic and Administrative Audit has been introduced in the state to evaluate, assess and give accreditation to higher education institutes and award them grade according to their performance on pre-determined parameters.
The Startup and Innovation ecosystem has gained momentum in India in the past few years. With 'Startup India' mission in place, Government of India has reached out to new age innovators to drive sustainable economic growth and generate large scale employment opportunities. In line with the Government of India, Government of Gujarat has also dedicated ample resources to build effective startup and innovation ecosystem in the state.
A dedicated strategy has been put in place to cater to the need of innovation culture building and pre-incubation while primarily involving youth to create a strong pipeline for next stage of Gujarat Start-up ecosystem. Student Start-up & Innovation Policy (SSIP) has mandated a support system of Rs 200 crore for this through the Education Department.
The academic start-up push has been significant in Gujarat, more than 10 out of 12 DST, and Government of India supported TBIs/Incubators are in universities in Gujarat and nearly 18 out of 20 National Institutes (NIs) of Government of Gujarat in academic environment. Gujarat Start-up ecosystem has taken a leadership role towards setting up a systematic pre-incubation layer.
Besides that, faculty development programmes are being organised at regular intervals focusing on Information and Communication Technology (ICT) education. This enables teachers to learn new pedagogical tools and ways of teaching across the state.
WHY CHOOSE GUJARAT FOR HIGHER EDUCATION
Owing to proactive, inspiring and supportive environment in the state, there exist 72 public and private universities, accounting for ~7.2 percent of total universities in India, and around 900 institutes of higher and technical education today. Gujarat has become a self sustained state in terms of having adequate number of seats for each aspiring student aiming to pursue higher education.
To explore collaboration with foreign higher education sector, MoUs have been signed with Embassy of Denmark, Saxion University of Applied Sciences-Netherlands, British Council, Schulich School of Business-York University, among others. Gujarat has 127 state government research institutes which is highest among the states in India. Further, the state ranks sixth highest on number of general universities.
Apparently, with 2,390 colleges, Gujarat ranks sixth in terms of total number of colleges in any state in India, as per the All India Survey on Higher Education (AISHE) report 2018-19.
When it comes to attracting foreign students, Gujarat has seventh highest number of foreign students with 2,068 students from various nationalities pursuing courses of their choice in the state.
As per the NIRF Ranking 2019, 11 Universities of Gujarat ranked among the top 200 universities. Over 19 Universities have received accreditation from the National Assessment and Accreditation Council (NAAC), of which 13 have been given "A" Grade.
"Another reason why one should choose Gujarat for education is for the living expenses which are much more economical as compared to those incurred in other countries. When it comes to safety, Gujarat is considered one of the safest states in India. Outstation and International students can enjoy a rich and fulfilling experience while studying in Gujarat without having to worry about their safety. Surveys suggest that people consider Gujarat to be the safest state based on daily news reports," says Anju Sharma.
Adequate public transportation, shuttle services, on-campus accommodation, well-lit roads are some of the other infrastructures that have been put in place over the past few years.
Gujarat is also home to some of the oldest universities of the country. Gujarat University setup in 1949 is the oldest and biggest universities of the state. It has a legacy that spans nearly seven decades. Eminent individuals, the current Prime Minister of India, Narendra Modi; acclaimed scientist Dr Vikram Sarabhai and Dr Ravindra Dave, Former Chairman, UNESCO, are among the university's alumni.
A SHIFT IN FOCUS
Gujarat has traditionally been recognised for its entrepreneurial leanings and not for its ability to develop professionally trained human resources. This, however, is changing very rapidly as the Government of Gujarat has embarked on a mission to make Gujarat an Education Hub for the country. The efforts are directed not only towards attracting students from other states within the country but also from other countries. The state government is taking aggressive steps to enhance both the infrastructure and quality of higher and technical education within the state.
STUDY IN GUJARAT CAMPAIGN
The Government of Gujarat has launched "Study in Gujarat (SIG)" campaign with an aim to inform students about the enormous educational infrastructure and opportunities the state of Gujarat provides and can thus help shape one's future growth through quality education that promotes innovation, hence the tagline "Educate, Innovate and Grow in Gujarat".
Under this campaign, road shows are being organised in at least 13 cities across the globe to create awareness among students about Gujarat's high-quality outcome-oriented education, availability of diverse industries, rich culture and heritage, progressive and welcoming mindset of local people and ease of living in the state. The campaign will have representatives of at least 28 partner universities, many of which are sector focused and hence provide good industry-academia partnerships, providing students with an opportunity to connect with them to better understand higher education and career opportunities in Gujarat.
EXPERIENCE THE UNIQUE DIVERSITY
From being a favoured port for mariners, nucleus of business and industry, cradle for culture and religion, epicentre of the Freedom Struggle, home of Mahatma Gandhi and Sardar Patel to the abode of the Asiatic Lion, Gujarat has it all.
The state is bestowed with great geographical diversity, from the ethereal salt encrusted desert to the expansive wetlands, pristine beaches to languid valleys, arid grasslands to lush forests. From Dholavira, one of the first cities in the world, to the first prototype of "Smart City" in India, Gujarat is an international student's dream destination awaiting exploration.
The state has 16 beaches on a 1,600-km long coastline, which is largest in India. Gujarat is also home to 22 wild life sanctuaries and as many as four National Parks, the only white desert in the world and multicultural heritage and monuments.
Students can expect to soak in the rich cultural diversity, indulge in the various fairs and festivals, savour the cuisine and take back fond memories of their visits which they will relish for a lifetime.