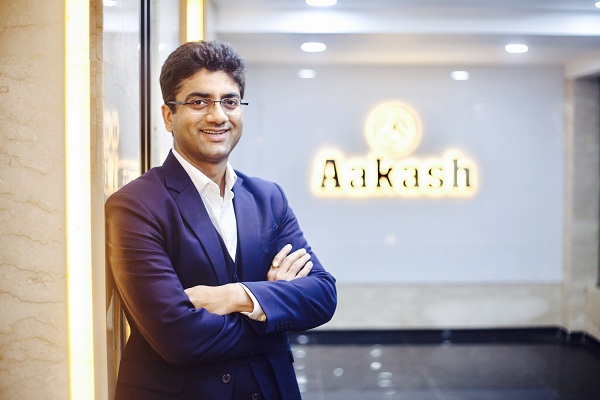 The COVID 19 outbreak has brought the world to its knees. Its outbreak and the resultant uncertainty has impacted students, schools and educational institutes across India. Rising to the occasion, Aakash Educational Services Limited (AESL) has adopted various measures to mitigate the impact that institute closures may have on students' learning process.
Here are a few measures through which AESL is ensuring continuity in study schedule of the students from the safety of students' homes.
Aakash Live: A Revolutionary Live Classes Program – The faculty at Aakash is well connected with students across the country through Aakash Live, a live teaching module offered by AESL. Below are the reasons which ensures that 'Aakash Live' is the great choice for the students:
• Aakash live, disseminates teaching via virtual classrooms that offer affordable solutions and quality teaching, wherein students can also clarify their doubts live sitting miles away.
• Teachers use interactive methods to make learning at home easy and engaging. Daily assignments and tests are sent to students for regular practise. Recorded videos are also shared with students to help them understand better.
AakashiTutor – All NEET and JEE aspirants for 2020 get the advantage of getting access to pre-recorded lectures on AakashiTutor. Quick doubt resolution through 'Ask an Expert' feature and regular online practice tests further help in strengthening the preparation of NEET and JEE aspirants.
Live Online Crash Courses for NEET/JEE exams – Aakash has also launched Live Online Crash Courses for students to help them prepare for medical and engineering entrance examinations such as NEET and JEE (Main & Advanced). These online crash courses will help in boosting the last-minute preparation of students.
Resolving problems through WhatsApp Groups – Teachers continue to address all kinds of doubts raised by students and resolve them online via mails, and through WhatsApp Groups. Different WhatsApp groups have been formed per class wherein the students can ask questions and get instant handy solutions.
Aakash Faculty ensures that even in times of lockdown, learning never stops and students prepare for the examinations without any interruption. The faculty even apprise the student on what to study and what not to study so that the student does not get into a panic mode.
Apart from studies, teachers at Aakash pay attention to boosting the confidence of students as staying at home and reading about dismal news can affect a student's morale. They even keep reminding them of the safety measures they need to take during the COVID-19 outbreak to stay safe and healthy.
Introduction of the Online instant Admission-Cum-Scholarship Test (iACST) – Aakashhas launched a unique new instant scholarship — the online instant Admission Cum Scholarship Test Exam (iACST) — to be conducted daily. The details of the exam are as follows:
• The test will allow students to take the exam online and provide them with details of the scholarship earned immediately
• Students can even take instant admission and prepare under the expert guidance of Aakash Faculty
• Students studying in Class VIII to XII are eligible to sit for the exam. Online iACST enables deserving students to earn up-to 75% scholarship
Meritnation – Announces Free Online Live Classes for students amidst COVID-19 Shutdown – Meritnation, a subsidiary of AESL, is providing special free live classes for students from Class 1st to Class 12th and those appearing for special exams like JEE/ NEET etc. to help mitigate the impact that school & institute closures may have on students' learning process.
(The writer is Director and CEO of Aakash Educational Services Limited)