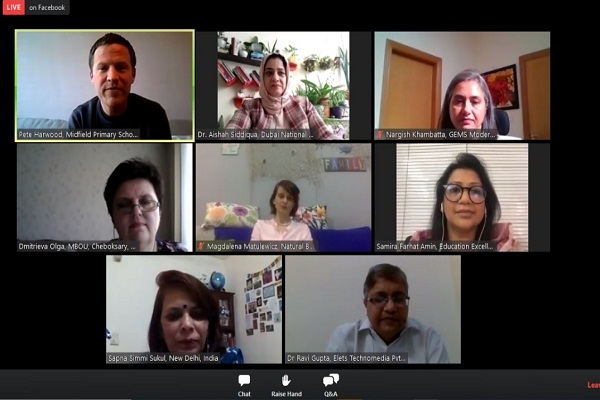 Coronavirus has fractured a large chunk of the world's education system. College, University and school exams are cancelled or postponed due to the spread of the virus. The virus has affected more than 157 crore students across 191 countries. Over 91 percent of students are affected due to the lockdown across the globe. Not only students but millions of teachers are also affected due to closure. Online classes are held during this period through education portals and various platforms.
Elets Technomedia and digitalLEARNING Magazine organized a webinar on "COVID 19 effects across the globe in the education sector" with distinguished speakers. The speakers were invited from all across the globe to present their views over the ongoing effect of the virus on the education sector.

Speaking over the current scenario, Pete Harwood, Computer Science Teacher, Midfield Primary School, London said, "All the schools in UK are closed from 20th March. The learning is happening but not at the pace we wanted. Many schools have taken up creative lessons for students. Not much assessments happening at primary level but more support is given to the children."

He also said the bigger challenge is how parents will cope-up with such crises and how to bridge the gap between students. He also added COVID-19 has taught to reassessments.
He also asked schools to accept technology in teaching as the world is changing rapidly.
Dr. Aishah Siddiqua, Director and Principal, Thought Leader, Consultant, Leadership Coach, Dubai National School, Dubai, UAE said, "This is a severe short-term disruption around the globe. Homeschooling is a huge challenge for parents and teachers. Certainly all the learning and socializing has shifted to online. It will have long-term consequences. Bringing long term equality for stakeholders will be a huge challenge. "
She also said, "Now, schools have to re-strategize, re-design their systems and create a culture for innovations". She also urged the schools to focus on collaborations and be prepared for such a crisis in the future.
Dmitrieva Olga, Teacher, MBOU (Municipal Budget Educational Organization) Cheboksary, Russia, said "We need to develop a new way to manage our time. Teachers' have to bring creative ways to teach. It's high time to adopt technology in teaching and parents need to develop good relations with their children. "
She also said, the lack of communication is a major challenge the world is facing in this hour.
Magdalena Matulewicz, Founder, Natural Born Leaders, Warsaw, Poland said "How the global crisis reveals the current condition of education where the biggest focus is on academic results and passive learning. She emphasised that with the rise of technology, present in homes and schools more and more, it's important to prioritise Active Holistic Learning that addresses all areas of child development and nurtures children's development of Core Life Skills, which is the foundation of Future-Oriented Education.
She also explained how technology can serve as a tool to trigger Holistic Active Learning at home and at school, and how important it is for educators and parents to learn how to offer holistic active learning on a daily basis as an alternative to passive technology-based learning.
Samira Farhat Amin, Founder & CEO, Education Excellence Country Director, Dhaka, Bangladesh said," Not all schools in Bangladesh have the technology to teach students through online portals. We are hoping things will get better in the coming days. Online counselling is the need of the hour for students"
She also said COVID-19 will bring new opportunities and experiments can be done in teaching. She also emphasized that International Universities must provide courses online which will be affordable for many.
Sapna Simmi Sukul, Ambassador School Program – British council, India, Teacher trainer, Counsellor Global AFS trainer, Advisor to schools, North India, New Delhi, India said "Earlier, we were all complacent over COVID-19. Over 1.57 billion students are at home due to COVID-19. Students are missing the peer to peer education. The virtual world will not provide the basic ingredient for a child to nurture.
She also said "COVID can be called as revolution and we can be change-makers. We can connect and bring changes in the sector. "
She also emphasized on VUCA world calling it as Vision, Understanding, Courage, and Adopt. She also said mental health will be the main issue post-COVID-19 crisis. She also urged parents and teachers to develop a program that can be beneficial for students in the longer run.
She also said teachers cannot be replaced with online portals.
Nargish Khambatta, Principal & CEO, Gems Modern Academy, said "Teachers have to play a key role in this crisis. We need to focus on learning rather than teaching. We need to train our teachers over the proper usage of technology in teaching.
Nargis urged schools to focus on intent, implementation, and impact. She also said online teaching is a new territory and everyone has to adopt it for a better future.