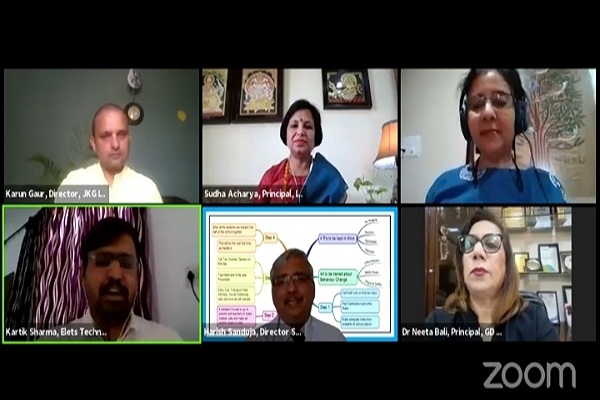 The Coronavirus pandemic has affected educational systems worldwide, leading to the near-total closures of schools, universities, and colleges. Most governments around the world have temporarily closed educational institutions in an attempt to contain the spread of the COVID-19 pandemic. In the wake of this emergency, educational institutions are shifting to online learning. With high regulation and the increasing infrastructure costs associated with offline channels of education—primarily kindergarten to grade 12 —educators will be motivated to give ed-tech its due respect and will slowly start complementing it with pure-play K-12 curriculum. The new online teaching will help the teachers design pedagogies that are personalised and serve heterogeneous classrooms.
A webinar was organized by Elets Technomedia in association with digitalLEARNING Magazine on "Aftermath of Covid-19 and how the crisis is going to impact school education" with eminent speakers from the education sector. The speakers presented their views on the challenges which schools are facing in the pandemic.
Speaking over the issue Dr Lakshmi Kumar, Director, Pradnya Niketan Education Society & The Orchid School, said "Narrative of schools will be important after the crisis. We must focus on students engagement sessions and re-define our priorities. The narrative must be holistic, not singular in this crisis. No schools can work alone and we need to work in a bubble. There is anxiety witnessed in children during the crisis."
She also said schools must be ready for the disruptive year and asked schools to focus on socio-relevant content.
When asked about the board exam, she said it's a worry for all the schools and need to change the way of conducting exams after the crisis. She also urged the support of parents in this pandemic.
Over online learning, she said it is the need of the hour but it cannot replace physical education. She also said the technology can bring new ways of learning.
Karun Gaur, Director, JKG International School, Ghaziabad, said "There is no option but to allow the online classes in schools. We have to adopt both offline and online classes post-COVID. Teachers need to adopt new ways of teaching and to find solutions to engage students."
He also said schools must sanitize all the classes, buses, toilets and the entire area before commencing the classes.
Over online teaching he said everything cannot be taught through the internet as some subjects need physical classrooms. He also said students are on self-learning mode and can learn new things during this hour. Schools must focus on a non-academic syllabus for students.
Dr Neeta Bali, Principal, GD Goenka World School, Gurugram, said "The COVID will be having long-lasting repercussions. There is uncertainly and anxiety among students and need to negate it. Our councellors are working hard with teachers so that children can bounce back when the school re-opens. We have started online classes so that students will not feel left out."
Over e-learning, she also said there is a trial and error happening in online classes and need to train ourselves to cope with it.
She also said our focus must be training teachers so that we can tackle such a crisis. The key assessment period is scrapped and now we rely on predicted grades for students. We need to find a viable solution to key assessment sessions and not rely on predicted grades.
Homeschooling cannot be an alternative for a long time as we have to bring back students to schools she added.
Sudha Acharya, Principal, Itl Public School, New Delhi, said "We must focus on mental well being for kids and life skill growths. We need to be have contingency plans for such a crisis. There is a paradigm shift in education but online classes cannot replace the physical schools. "
She also said children are experiencing anxiety and depression in this lockdown, as teachers we need to support them.
On e-learning she said, online classes cannot be seen as a substitute and everything cannot be taught through virtual classes. She also said the schools must re-schedule their curriculum.
Over teachers she said, they are an integral part of social change and need support from parents to conduct online classes.
She also asked to get rid of pen and paper exams for toddlers when schools re-open.
Harish Sanduja, Director Schools, Seth Anandram Jaipuria School said "We need to get prepared what going to happen in the coming days. We need to resolve, remediate, reinvent, re-imagine, before opening schools. Not all students can be called immediately when the school opens. Sanitization must be done before students come in."
He also said socio-emotional learning is a must for students as school and field norms will be changed.
He also said "We can call students in two slots and we need to change the time table schedule. Split schools into two vertical classes and even and odd roll number can be called to maintain the social distancing. Staggering of breaks will be important for students"
He also said we need to find viable solutions to cope with the crisis.