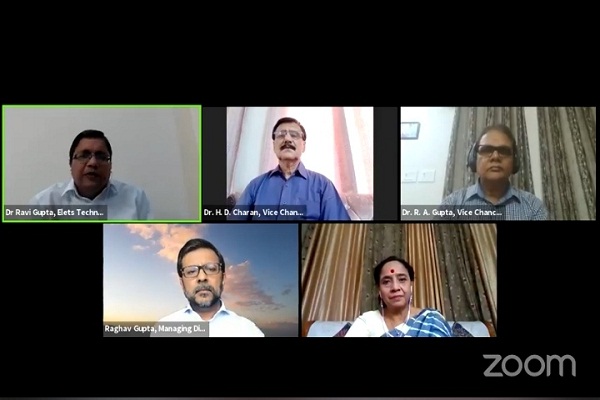 With the COVID-19 outbreak spreading across the nation, the Central government has imposed a lockdown till May 3, 2020. All the educational institutions are facing an unprecedented halt due to the COVID-19 pandemic. The crisis is huge for the educational institutions as they have to shift their entire focus on online education. The schools are finding new ways to teach students in this crisis. The ed-tech firms are trying to provide all type of solutions; educational institutions need to tackle the pandemic. From pre-schools to Universities every organization is directly or indirectly dependent on ed-tech firms.
A webinar was organized by Elets Technomedia and digitalLEARNING Magazine on "Developing effective learning outside the classroom during COVID-19 Confirmation" with some eminent speakers from the education industry. The speakers presented their views and described how the education sector can overcome the crisis.

Speaking over the issue, Dr Shuchi Sharma, IAS, Secretary, Higher and Technical Education, Government of Rajasthan, said "We must go for more and more e-learning sessions. E-lectures must be the potential solution in this crisis. E-lectures have brought great opportunity and will boost the traditional way of teaching. The bigger challenge is how to conduct exams online in the coming days if the lockdown extends."

She also said the government must think to conduct e-classes in universities as plenty of e-content available.
She even said, "Everyone is going for hit and trial method. There will be a great number of online courses in the coming days."
She also said there are limitations of online classrooms and everything cannot be taught virtually.
She also emphasized on turning classrooms to discussion forms so that no student will feel left out.
Sharma also said the technology will bring new dimensions of teaching and boost new opportunities for teachers.
Dr R. A. Gupta, Vice-Chancellor, Rajasthan Technical University, said "E-learning is very important for technical universities. We have asked all the lecturers to record their lectures and upload them on Youtube. Students can do most of the things through e-learning. E-learning gives lots of exposures to students. The connectivity between teachers and students has improved a lot during e-learning classes."
He also said the university has urged the faculties to upload their notes online so that others can get the benefit.
He also said E-learning gives lots of exposures to students and will boost teachers to prepare for the classes beyond the syllabus. The technology is boon for higher studies as every content is easily available for students.
Dr H.D. Charan, Vice-Chancellor, Bikaner Technical University, said "Corona crisis can be seen as a boon for e-learning. The govt has provided a large number of digital boards which has helped us to record a large number of lectures. E-learning can add value and will be a good addition to the higher education sector."
He even said blackboard teaching cannot be replaced by any other means.
He also said the university has conducted online workshops for teachers very successfully. Online tests have been done through Google which was very popular among the students.
He also said teachers will play an important role when the institutions will be re-opened and a new tern will emerge after the COVID crisis.
Raghav Gupta, Managing Director – India & APAC, Coursera, said "The impact of COVID is very significant on Higher Education. Creating an online course is easy but providing quality content is not easy. Creating high-quality content is a different ball game together. Colleges in this crisis need Real-time communication moves, online education platforms, Learning management systems, online assessment, or plagiarism control systems. We all must focus on both offline and online systems."
He also said it will be beneficial for all to keep 20-30 pc online education in our syllabus.
According to Raghav, the industry is changing rapidly and colleges must adopt industry-oriented courses that will be beneficial for students. He also said colleges must adopt a blended model of teaching.
He also said curation is important for all the colleges. Over 1.5lakh students are learning on Coursera.
Coursera is one of the leading online learning platforms for higher education, where over 58 million learners from around the world come to learn the skills of the future. More than 200 of the world's top universities and industry educators partner with Coursera to offer courses, specializations, certificates, and degree programs