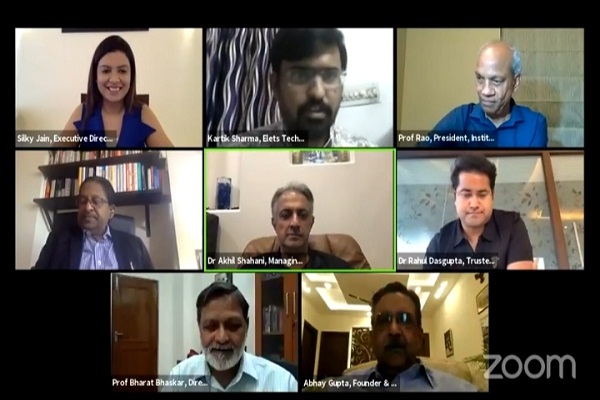 Countries across Southeast Asia have in quick succession announced the closure of their schools and universities in order to contain the spread of the COVID-19 virus which has been declared a global pandemic by the World Health Organization.
More than 850 million young people, or about half the world's student population, are barred from their school and university grounds because of the Coronavirus pandemic.

School closures impact not only students, teachers, and families, but have far-reaching economic and societal consequences. School closures in response to COVID-19 have shed light on various social and economic issues, including student debt, digital learning, food insecurity, and homelessness, as well as access to childcare, health care, housing, internet, and disability services.
Not only schools, Higher Education institutions were also highly impacted due to the Corona close down.

Elets Technomedia in association with digitalLEARNING Magazine organized a webinar on "Redefining the Leadership in Virtual Environment – Innovation to Transformation" with eminent speakers from Higher education.
Speaking during the webinar Silky Jain, Executive Director, Tulas Institute said "We had to vacate our hostels and arrange transports for students to go back as soon as the lockdown was announced. We commenced online classes from the second week of lockdown. We were not prepared to handle such a crisis. The huge challenge is most of the students are coming from tier 2 and 3 cities, who have issues with laptops and internet bandwidths."
She also said everything cannot be converted to online as practical classes for some subjects are necessary. Admission will be a huge issue for institutes this year as there will be less mobility of students. Colleges must adapt micro-learning and assessments will be a challenge for us. Blended learning will be important for all colleges when colleges will re-open.
Prof Bhamidimarri Rao, President, Institute of Advance Research said "The primary mission of educators is not changed. Educators should prepare themselves for life outside the university campus. If we will not change our ways then we will be nowhere. Technology moves faster than the adaptability of humans. We must able to learn to adopt new technology."
She also said connectivity in the country is getting better but internet bandwidth is an issue for many parts.
Over digital education, he said we can have a complete digital education in the future. Interaction through digitalization will be the next thing on campuses. However, peer learning cannot be done through online learning. There are limitations to Artificial Intelligence as it cannot replace teachers, he added.
Prof Christopher Abhram, CEO, Dubai Campus, SP Jain College of Management, said "Technology can bridge the gap within students. We have invested heavily in technology. The biggest challenge was to get faculties to get accustomed to the technology. We have replaced whiteboard with mobile phones on weekends. With technology, we can change higher education."
He said adaptability must be our focus and the world is ready to take technology for an option in the education sector. Collaboration and critical thinking can provide us potential solutions. Every institution must revisit the curriculum and ways of teaching.
He also said "SP Jain has introduced Engaged Learning Online (ELO) – to bring on-campus learning experience online. ELO uses a blend of emerging cutting-edge technologies to bring in the rigor of an in-class engagement online and in real time. Students can log in from any part of the world and get all the benefits of on-campus education. They can interact with faculties, share ideas with their peers, collaborate on assignments, break out into teams to discuss and debate. All this happens in real time and without any loss of engagement."
Over Artificial Intelligence, he said it cannot replace teachers. Al can be used as substitute not as replacement.
Dr Akhil Shahani, Managing Director, The Sahani Group said "We need to stop the traditional teaching methods as they don't have the cutting edge anymore. We can make the classes more interactive. If we can make the class interactive then we will not lose students' attention during the classes. We have to change our method of learning"
Ed-tech players will be the biggest beneficiaries in this crisis as every institute is adopting online learning, he added.
He also said institutes must focus on employability not placements. Placement can be an issue for the students this year. After lockdown institutes cannot accommodate more students in classrooms. There will be blended learning as some students will learn from home and some from homes. Classes must be more interactive and faculties must act as facilitators, he added.
Dr Rahul Dasgupta, Trustee and Director, Globsyn Business School said "The bigger challenge was to ask students to make use of technology in studies. Every subject cannot be taught online. The learning curve has been very passionate from last few days. Effective learning is must be our focus."
The COVID crisis has created repercussions in the education sector. With everything under lockdown, firms are giving research based internships to students. Placements can be an issue for this year as slowdown can be witnessed across the globe, he added.
He also said are trying to upscale the offers our students received.
Abhay Gupta, Founder & CEO, Luxury Connect Business School said "We are an eight years old institute and market has opened up with others coming up in the sector. We have created 100 pc video based programmes. The acceptance of online courses has surged in last few months. We will find a way to sail through this pandemic. "
Over online education, he said today is very difficult to hold the attention of students in physical classes and in online mode it's more difficult.
The luxury industry is recession free always as it was unaffected during 2008-09 great recessions. There is a slump in the supply side but the demand side remains high. The quantity will be taken over by quality. The industry will be a hit but will come back, he added.
Over placements, he said there will be always opening in luxury industry.
Prof Bharat Bhaskar, Director, Indian Institute of Management said "Digital transformation was need of the hour as education sector needed such a transformation. The change which was supposed to take place in five years will be done in the next two years. The education sector is accessing the digitization. Now we are teaching 4000 students in digital mode. "
He also said the COVID-19 has caused an acceleration in the education sector to adopt the technology. Technology can add a cutting edge to the sector with new implants. Admissions are not an issue but starting the sessions will be an issue, he added.
Online education is the transform of knowledge as wisdom cannot be transformed. Technology can be a facilitator to provide content to student, he said.
Case teaching can be done through online very effectively. It can be done more effectively during virtual classes. We can learn from each other and make online education more effective for students, he added.