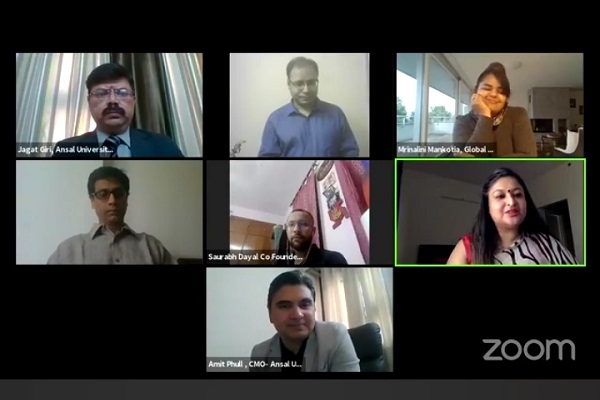 Ecommerce platforms, retail chains and kirana stores reported a sharp surge in sales of staples, daily necessities and personal hygiene products in the past few days as panic buying took hold across India amid the fear of closures as Covid-19 cases rise. Deliveries have been delayed and some items such as sanitisers have gone off shelves or are unavailable online. Retailers and fast-moving consumer goods (FMCG) companies said there are no shortages and that they will speed up supplies to shops besides seeking to curb hoarding. Despite manufacturing and selling essential products, in this lockdown period, FMCG companies have had to swiftly respond to unprecedented challenges, with innovative strategies to maintain supply chains and ensure consumers can access their products. Products such as rice, atta, pulses, edible oil, sugar, biscuit, tea, instant noodle, butter, frozen food, soaps, hand washes and floor cleaners are flying off the shelves.
Elets Technomedia and digitalLEARNING Magazine organized a webinar over "International Marketing Conclave Insights of Impact on Brands during COVID-19" with esteemed speakers from the FMCG sector.

Atul Sharma, Principal Consultant – Innovation and Design Thinking, Oasis of Learning said "Firstly, we have to see can we operate in this crisis, secondly, how can we reach customers and lastly, how we can help consumers. There is uncertainly going on and find new ways to survive."

He also said these are times for the world to join hands to fight the crisis. We need to think out of the box to survive the unprecedented times. Many sectors are suffering under the lockdown and people have to be more innovative and creative to find solutions.
For students he said Leadership, Empathy, experimentation will be important for students post COVID crisis.
Mrinalini Mankotia, Assistant Regional Manager, ASEAN Markets Nestle said "The Covid-19 has become a pandemic. We are in a new normal and there is an economic depression looming. With the pandemic, there is a silver lining for FMCG. Food is the new medicine. There are huge strategic shifts in FMCG sector. Consumers are seeking safety and there is a massive shift happening online."
She also said the FMGC sector must look to change the prices as consumers are going through rough times. Challenges are in forex, it impacts the supply chain, now people have to go more local. Brand communication is of utmost need and reminding the consumers about products, she added.
She said quality is very important as the sector needs to keep the consumers with them. Marketing communication works on functions not emotions, she emphasized.
All the categories will be addressed differently she added.
Arnab Ghosh, Former VP, Godfrey Phillips India and Senior Marketing and Strategy Professional said "We are in a VUCA world. The pandemic has forced people to lost faith. Brands need constant reassurance to consumers. Brands need to communicate more frequently and build empathy. Human connections are very important for bands in this crisis. Being transparent and building trust will also be essential for brands."
Over opportunities, he said big brands will get bigger. There will be a surge in health and hygiene categories, commodities likely to be branded. Lots of new categories will come up and there will be a surge in food sections also.
COVID has created a space for small brands with a digital explosion. The growth of the internet in rural India has grown to 35 pc as compared to 7 pc in urban. Small brands can go niche, and create their own space in the sector, he added.
In the coming days, media is going a significant change in media and TV is poised for the second coming.
Virtual and augmented reality and more new things will evolve to provide better services to consumers.
Saurabh Dayal, Co-Founder, ClearDekho.com, Ex Paytm, Wipro, HCL said "These are unprecedented times. We are trying to bridge the gap between the offline and online space. We will see many contact less shopping systems and now there will be fewer window shoppers. More rental models are coming up and cloud retail business will surge. There will be a huge surge in online business. Most of the huge retail markets will be hugely hit."
The COVID-19 has affected the online business immensely. People are shifting from offline to online. The cost of delivering will increase and margins will reduce and there will be a lot of collaboration not competition, he added.
There will be diversification in the sector and customer accusation costs will be reduced. Lastly, he said people should replace fear with faith and hope.
Amit Phull, CMO, Ansal University, Ex. Decathlon, Ansal Retail said "There will be a paradigm shift in business after COVID. Only 7-8 pc retail industry is functioning. About 20-25 pc jobs will be lost in the retail sector. The retail brands will take 9 to 12 months to recover from the crisis. Brand loyalty will be diminished as consumers will go for cheaper things. Retailers need to revaluate their business to regain the confidence of the business.
He also said the emergence of virtual reality in retail will bring a new dimension. Communication needs to address properly to consumers. To make our consumers feel they are smart, new strategies must be adopted. This is the time when brands must not try to sell more but keep touch with consumers.
There will be more brand building activities in the market, he added.