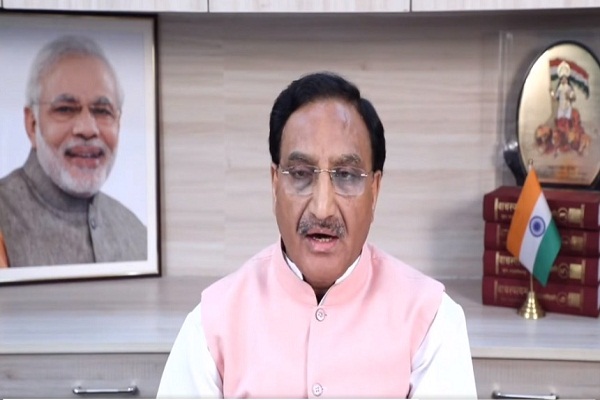 Union Education Minister, Ramesh Pokhriyal Nishank on Monday inaugurated 46 online AICTE Training and Learning (ATAL) Academy Faculty Development Programmes (FDPs) to train teachers of higher education institutions associated with the All India Council of Technical Education (AICTE) in thrust and emerging areas in technology. The FDPs will be conducted in 22 Indian states.
On the occasion of the inauguration, the Minister said that it is a matter of pride for the ATAL Academy to be included in the Book of World Records. The London-based organization has recognized the FDPs as a world record, under which 1,000 online FDPs in over 100 emerging areas will benefit one lakh faculty members across premier institutions like IITs, NITs, and IIITs. This year the online FDP program will cost Rs 10 crores.
Also read: Pokhriyal honoured with Vatayan Lifetime Achievement Award
Speaking after inaugurating the 500th FDP, the Minister said, "Out of the 1,000, 499 FDPs are already completed with more than 70,000 faculty members already trained. In 2019-20, 185 five-day face-to-face FDPs in nine thrust areas — Artificial Intelligence, Internet of Things, Block-chain, Robotics, Quantum Computing, Data Sciences, Cyber Security, 3D Printing & Design, and Augmented Reality/Virtual Reality — benefited around 10,000 participants."
"Digital learning and the increasing use of smart devices such as computers, smart phones, and tablets have enhanced student learning. CBSE teachers have been trained under the 'Flipped Classroom' and 'Blended Learning' concept. The next day, teachers in classrooms provide activities related to the post lecture and students participate," said Prof. Anil D Sahasrabuddhe, Chairman, AICTE.
"The main objective of ATAL Academy is to provide quality technical education in the country and to promote research and entrepreneurship through training in various emerging fields. IITs, IIITs, NIT,s CU and research labs are organizing these ATAL FDPs," said Prof M.P. Poonia, Vice Chairman, AICTE.