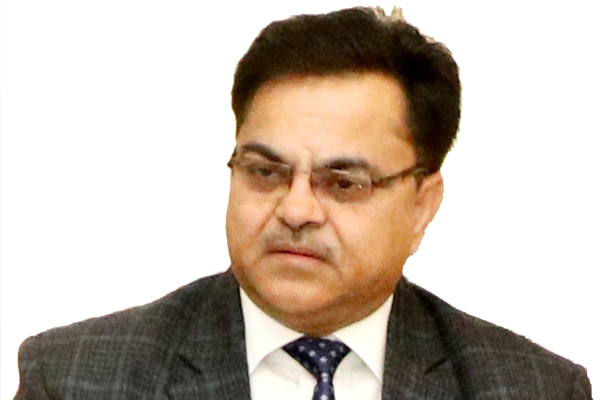 The expansion of educational institutions in order to enhance Gross Enrolment Ratio (GER) is essential which requires space, HR, and infrastructure, says Dr. Vinod K. Bhardwaj Nodal officer, Innovation & Skill Development, Commissionerate of College Education, Government of Rajasthan in a discussion with Elets News Network (ENN).
Higher Education: Overview
Rajasthan is a state where a larger network of Higher Education (HE), is engaged in imparting education. As per the AISHE report 2018-19 there were 39,931 Colleges, 993 Universities and 10,725 Stand Alone Institutions (SAIs) in India. The number of colleges went down from 40,026 in 2016-17 to 39,050 in 2017-18. This number has again risen to more than 40,000 in 2019. However, the existence of colleges is not depending only upon the number of admissions therein. Youth, entering in Higher Educational Institutions (HEIs) are much more cautious about their career and interested in gaining multiple degrees, diplomas or certificates in a shorter time. Apart from that, they prefer quality education, modernized facilities, up-to-date content and intriguing delivery of education. They avoid traditional methods of education and older looks of institutions, as these methods weren't multidisciplinary in approach, nor did they cater to the all-round development.
The expansion of educational institutions in order to enhance Gross Enrolment Ratio (GER) is essential which requires space, HR, and infrastructure. Opening of new colleges is a compulsion to facilitate youth offering "Siksha apke dwar" to assure access on one hand, while assuming for quality and facilities which are the genuine expectations of the beneficiaries. Therefore a humongous challenge is to deal with the aforesaid objectives- access and quality. In states including Rajasthan, where geographical diversity, economic disparity, and poverty are stronger constraints, the dilemma of ways to ensure access and quality magnifies significantly..
Also read: Higher education institutes to reopen in UP from Nov 23
Higher Education in Rajasthan: PPP initiatives
Observing the number of HEIs in Rajasthan, there are 12 Government Universities and 51 Private. Universities offering various courses in higher education. Besides 332 governments and more than 1800 private colleges are in the state. Colleges are imparting courses in arts, science, and commerce streams. More than 12 lakh students are enrolled in general higher education domain only with majority of students in private colleges (approximately 7.5 lakhs). Therefore, the immediate need is to assure better delivery, services, and effective higher education to the bulk which certainly is a challenging task. This can be achieved by associating private institutions, agencies and organizations through informal Private-Public Partnership (PPP). This association can help to develop infrastructure and facilities in the institutions while striving for qualitative upliftment through continuous training and such other programmes. Involving private players can reduce financial burden over the government as well.
Rajasthan: Partnership association and gains
Rajasthan has gained remarkably through such strategic partnerships. Engaging with educational fairs and summits organized by Elets Technomedia and others, the Department of College Education showcased its potential and requirements. This helped it to brief out the agenda and purpose of association to the private organizations with the domain of higher education. Starting in 2018, by signing MoUs with 19 government, autonomous and private organizations and agencies, the department of College Education entered into a new era. IGNOU, Microsoft, CEG, RISU, HIK Vision, Bodh Shiksha, Jaipuria Institute of Management Jaipur (JIMJ), Elets Technomedia, ICICI Academy for Skills, McGraw Hills, Morarka Foundation etc. were some organizations which came forward to get associated with the college education domain.
Various training and hands-on practice based programmes were started for students and teachers with the help of these partners. Programmes like Youth Employability Skills (YES), My College My Pride, Krishi Vandan, Athiti Bhasha, Higher Education Leadership Programme (HELP) and summer Camp 2019 "Koushal Unnayan" were some well recognized and successful initiatives. A notable aspect is that these initiatives had no additional cost bearing upon the government as they were borne by the organizations themselves either self financed or under CSR. As a result, intradepartmental faculty training, employable skill training to students, institutional assessment through Higher Education Leadership Programme could be initiated. Placement of students through a planned mechanism and some initiatives to promote entrepreneurship among youth were adopted on priority.
Following this pattern, the department has again signed 8 MoUs this year. The agencies/ organizations like Rajasthan ILD Skill University (RISU) Jaipur, Indian Institute of Information Technology (IIIT) Kota; Morarka Foundation, Bodh Shiksha, MANSA, USHA, Gurubhakti and Manav Nirman Sansthan have joined hands to assure quality education and enhance employability among the collegiate pupil. Besides, the College Education department has been implementing a programme to facilitate a larger number of students in association with the Rajasthan Skill & Livelihood Development Corporation (RSLDC) to train them with different employable skills through Mukhya Mantri Yuva Koushal Yojna (MMYKY), initiated by the RSLDC last year. Also it is hereby mentioned that any support from both government and non government agencies are heartily welcome.
Way forward
To sum up, there is a need to welcome the private players and have continuous and comprehensive dialogue with them in order to substantiate their involvement with higher education and help the government to change the face of higher education for a better and brighter Rajasthan.