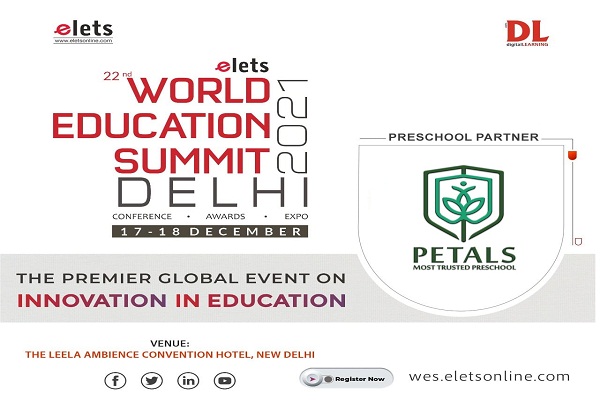 Preschool education provides children with an opportunity to build their social, emotional, and general life skills. It supports in improving the basic understanding, focuses on the overall growth and development as well as bolsters the language skills. Education in preschool provides scope to learn in a way that generates the interests of the children, which is requisite at the initial stage of learning and growing.
Petals – a chain of Preschools & K12 schools are catering to the needs of early childhood education. Petals are executing and performing a marvellous job to help children develop a drive to learn new things and support in the foundational learning process. We feel extremely fortunate to partner with Petals at Elets World Education Summit, organised on 17-18 December 2021.
From preschool, children gain a lot because they usually get exposed to numbers, shapes and letters. Children usually have fun-based learning experiences in preschools. Children can spend extended amounts of time learning and growing with other children and teachers. Young children reap plenty of opportunities to socialize, make friends, listen, cooperate and build relationships.
Preschoolers can find many learning opportunities like practising interpersonal skills, building emotional skills, enhancing literacy skills, developing decision-making skills and responsibilities.
The imagination of toddlers is active, their brain functions fast and they put things into action quickly. The grasping speed of young children is also prompt, and this is why it is vital to nurture their imagination to fuel learning and creativity. The preschool environment focuses on improving the knowledge, skills and encourages them to explore new things.
Nevertheless, the impact of the Covid 19 pandemic created disturbances in early childhood education & care in a number of ways. For instance, an unprecedented situation occurred with the pandemic as preschools witnessed closure and face-to-face teachings came to a halt. Parents are concerned about children's mental health and emotional well-being.
Meanwhile, there is an apprehension among people currently with the new Covid 19 variant, 'Omicron', which is spreading in other parts of the world. If such a case happens then it will once again hinder the offline education of preschoolers.
The event will be a platform where such pertinent issues will be deliberated and insights will be shared on how the current situation can be handled to continue learning and teaching among young children.
Watch Education Leaders from across the globe take the 22nd World Education Summit stage! Gain insights, make invaluable connections, deliberate on essential topics at the global event. A few days left for the event to go in-person now!
For more information, kindly visit our website: wes.eletsonline.com
Follow and connect with us on Facebook, Twitter, LinkedIn, Elets video
>