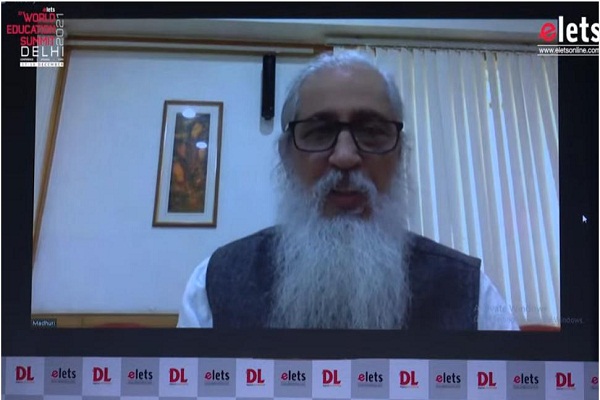 New Delhi
Great Mathematicians and scientists have come from India. Infact, India has given some of the greatest inventors to the world. We need to make our education system more sustainable and creative-friendly. This was stated by the Chairman of All India Council for Technical Education, Prof Anil Sahasrabudhe, who was delivering the inaugural address of the 22nd World Education Summit, organised by Elets Technomedia at New Delhi recently.
Prof Sahasrabudhe spoke about National Education Policy and how it can be implemented to make education more enjoyable and sustainable. "All education must be holistic. There is a strong need for making education more enjoyable and the National Education Policy has been designed keeping this in mind, Prof Sahasrabudhe said." He spoke about how AICTE is already doing a lot of innovations and changes in lines with the NEP. "As a technical education regulator several reforms in line with NEP have been brought in by the AICTE. These have just made a little more broad based in the NEP. We have a multiple exit formula which allows the students to get a diploma, a degree or an honours degree after completing their programme. All the programmes are of four year duration and students are given the option of multiple exit in the beginning of the programme itself."
He also spoke about how AICTE has been working towards promoting innovation in education. "There is a great emphasis on innovation and education and there have been several events that have been undertaken for the purpose. The Smart India Hackathon was one such initiative. All our efforts have been to let the students experiment and explore. We want the children to try and fail, and not just worry about the results. We want them to find solutions to problems and look at them in a holistic manner," Prof Sahasrabudhe said in his virtual address.
He said that India is the land which has given some of the best mathematicians and scientists to the world and we must get that era back. "Great mathematicians and scientists have come from India to the rest of the world. And we all know their contributions in their respective fields. We need to bring back that era and need to make the necessary changes in the curriculums. We need to have courses and processes which are sustainable and based on creativity and environment friendly as well," said Prof Sahasrabudhe. He further added that education should be much more beyond adding values, ethics and morals. "Our Universal human values student induction programmes gives students insights about these and prepare them to become better humans too," he said,