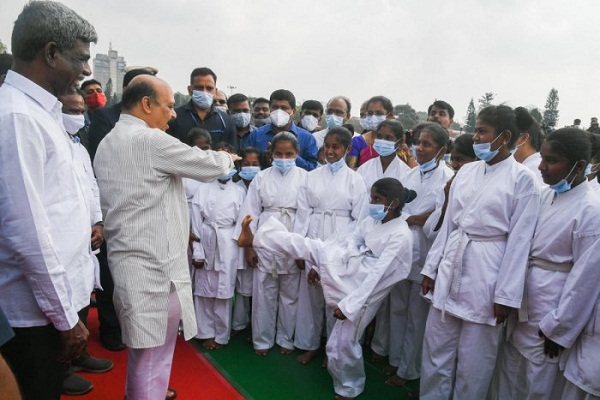 Bengaluru, Karnataka
Aiming to empower the girl students, the Karnataka state government has launched 'Obavva Art of Self Defence Training'. This is a self-defence training programme for girl students in schools and colleges. 50,000 girls will be benefited from the programme. The launch ceremony was attended by Chief Minister Basavaraj Bommai. In his address, Bommai said that the Home Department has been instructed to use Police Training Schools to provide self-defence training to women. The programme was organised by the Social Welfare department.
Elaborating about the programme Bommai said, "An ambitious programme is being charted to provide self-defence training for 50,000 girls students in Backward Classes and Social Welfare department hostels. It has been aptly named after the historical warrior Onake Obavva."
He said that there is a strong need for such programmes to train women to stop harassment. "Several laws have been passed, programmes formulated and funds spent to stop harassment and atrocities on women. But there is a need for imparting self-defence training to them. The rogue elements could be taught a lesson if women are trained in self-defence."
The Chief Minister also added women's safety is primal. "Good programmes have been formulated through boarding schools of the state for women's protection. This programme should go on throughout the year. All the programmes would be integrated and a new programme would be implemented for women's safety," he added.
He added, "We all have read the courageous story of Onake Obavva. Karnataka is proud of its legacy of such courageous women. Kitturu Chennamma, Belavadi Mallamma, Onake Obavva, these women were more courageous than men. They are our inspiration." The state government would also provide education, employment and inspiration to achieve the top spot in the country by the time the state would celebrate 75th Rajyotsava", he stated.