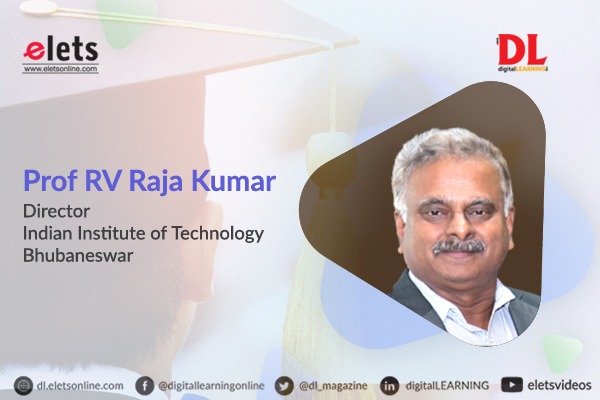 Prof RV Raja Kumar is the director of Indian Institute of Technology Bhubaneswar. He spoke to the Digital Learming magazine about innovations in higher education during the pandemic times.
What has been the biggest innovation in higher education during the pandemic?
The most effective innovation in the higher education system is the usage of webinars as a means for holding seminars, workshops, conferences and brainstorming sessions by academic institutions. Webinars have been conducted with almost the same effectiveness as conventional methods, by institutions small and big alike. As a product or system innovation, I can talk about the technology development done by IIT Bhubaneswar for conducting pen & paper comprehensive examinations online along with invigilation for our students who were distributed across the country at their homes, which I feel is the most innovative method. Such systems are not available commercially and it is far superior to the commercially available computer-based test (CBT) products which are used for testing "Multiple Choice questions". We not only developed a product, where there is a commercial CBT as a subsystem, but also very successfully applied it for holding all our examinations from April 2020 onwards.
How do you think the use of technology is upskilling the students and making them more industry ready?
The pandemic has made the students, faculty members and institutions adopt different technologies in the process of providing education online since it turned out to be a necessity. Adopting lecturing in front of a camera, sharing presentations, doing board writing on tablets, video streaming in sessions using one or two online conferencing methods, making the sessions interacting, participation therein by students, and adopting some online mechanism to hold examinations has been done successfully by almost everyone. Certainly, these mechanisms not only added significantly to the skills and capabilities of the stakeholders but also enabled them to get a step closer to self-learning, which is a prerequisite for lifelong education. This culture has not only made people tech-savvy, but also will help them in making them industry ready in a number of ways.
NEP has been advocating for the addition of technology in the curriculum. What do you think can be the best way of incorporating technology into the curriculum?
The best way to add technology in the curriculum is to make it a part of the education system and create the infrastructure for enabling the same, holding some initial training sessions to all the stakeholders including the students, faculty and rest of the institutional machinery. That is what I did to implement it successfully in 2010 at Rajiv Gandhi University of Knowledge Technologies (RGUKT), Govt. of Andhra Pradesh as its founding Vice-Chancellor. The university had an annual intake of 6000 rural students starting with the 1st batch itself and my task was to create and implement the best possible education system to empower and make them employable, including creating the infrastructure for enabling the same. I could achieve it by introducing an ICT based blended education for Engineering students with which the education could be made very effective on a large scale.
Can you share some best practices for the use of technology in higher education?
As far as I can say, making video courses and interactive web courses from eminent faculty selective from across the world accessible either through local powerful servers or by live streaming, onto the personal computer or cell phone or other palmtops is the best way education can be effectively imparted with inclusivity, without rural-urban divide and very importantly by overcoming the scale problem.