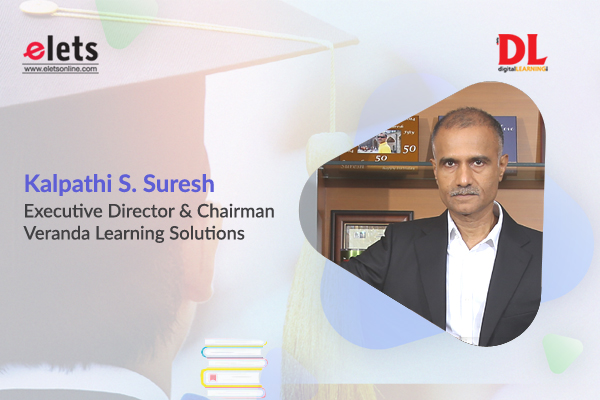 Kalpathi S. Suresh is the Executive Director & Chairman of Veranda Learning Solutions. He spoke to the Digital Learning Magazine about strengths of the Edtech industry.
Give us a brief about your company
Veranda Learning Solutions offers diversified and integrated learning solutions in online, offline hybrid and offline blended formats to students, aspirants, and graduates, professionals and corporate employees through a multitude of career-defining competitive exams, professional courses, exam-oriented courses, short term upskilling and reskilling courses.
We offer our services through our four wholly owned Subsidiaries including Veranda Race, Veranda CA, Veranda IAS and Brain4ce – whose customer-facing brand is named Edureka. State Public Service Commission, Staff Selection Commission, Banking, Insurance and Railways preparatory courses are offered under Veranda Race. Under Veranda CA and Veranda IAS we offer CA preparatory courses and training for the Union Public Service Commission (prelims, main exam and personality tests). With the acquisition of Edureka in September 2021, we have expanded our presence in software education in global markets.
We offer integrated 360 degree training to the Students by providing them with comprehensive courses prepared by our content team. Through our B2B offerings, we also provide customized short- term and long-term skilling courses and other corporate courses for employees.
What is the biggest strength of the EdTech industry in making a paradigm shift in the education ecosystem?
The COVID-19 pandemic and the subsequent lockdown forced all educational institutions — schools, colleges, universities — across the country to shift from offline to online mode. This resulted in a significant increase in the number of students studying online in India since March 2020. Parallelly, there was an increase in demand for EdTech platforms from Tier II, III, semi-urban and rural areas, with requirement for courses in local vernaculars.
I believe that ever-evolving technology is the biggest strength of the edtech industry. The way the industry has begun to incorporate cutting- edge technology to make education available in whatever form the students need is clearly visible. Technology aids in the personalization of learning depending on the requirements of individual students. Edtech applications can help track students' progress throughout the course and make recommendations and suggestions as needed.
Do online mentorship programs have the potential to provide the best to everyone and hence bridge the socio-economic gap?
Online education provides a low-cost alternative to traditional education due to lower infrastructure costs and a larger student base. Private edtech companies, I'm sure, are also working to close the socio- economic divide in online learning. Our brand's commitment is to give a high-quality programme at an affordable price that drives outcomes, and we are working hard to fulfil that promise in tier two, three and four towns.
It is said that online mediums have the power to meet policy parameters of NEP – Access, Equity, Quality, Affordability and Accountability. Your views.
The NEP envisions an education system rooted in Indian ethos that contributes directly to transforming India into an equitable and vibrant knowledge society, by providing high-quality education to all, and thereby making India a global knowledge superpower.
The vision of the policy is to instil among the learners a deep- rooted pride in being Indian, not only in thought, but also in spirit, intellect, and deeds, as well as to develop knowledge, skills, values, and dispositions that support responsible commitment to human rights, sustainable development and living, and global well-being, thereby reflecting a truly global citizen. The NEP instills a great deal of optimism in the education sector's future.